We all want our homes to be clean and organized. Many people believe that a neat and tidy home is the key to a happy domestic life. So why not apply the same standards to your car? Cars can get messy as well, especially on long family car rides. Toys get lost under seats, water bottles disappear into shadowy crevices and mobile phones perfectly slide away into oblivion. But what if you could easily organize the contents of your car? Well, you're in luck. Because right now you can invest in a range of different organizers and visor mounts for your car, to help keep your vehicle in perfect order.
We hope you find these products as awesome as we do. Just an FYI: We are a participant in the Amazon affiliate program, and may receive a share of sales from links on this page. Prices on Amazon fluctuate so anything mentioned below might change as soon we publish it!
From organizers that can be strapped to the back of your car seat to visor mounts that can hold anything from your phone to your work folder, these are the 10 best organizers and visor mounts that Amazon has to offer! Perfect for any aspiring Marie Kondos, looking to organize their lives.
We hope you find these organizers as amazing as we do! But just so you know, we participate in affiliate programs and may receive a share of the revenue from your purchase.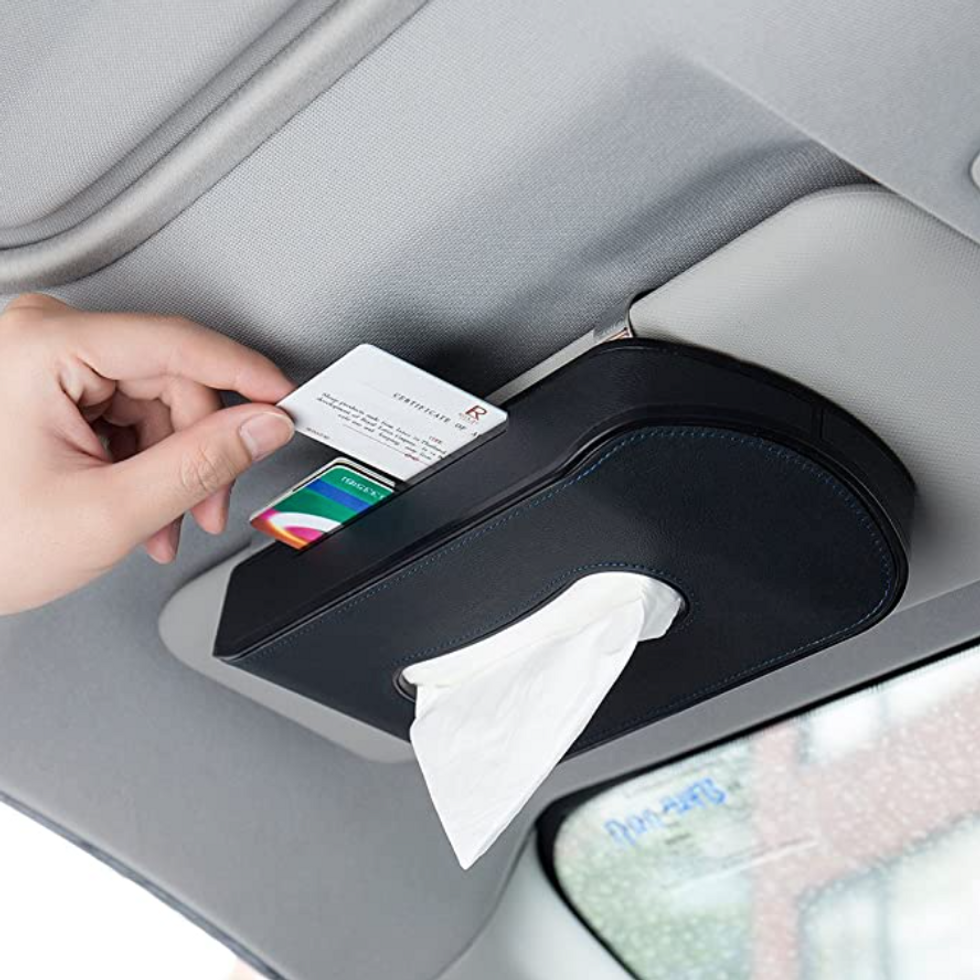 via: Amazon
Practical and durable, this Mr. Ho Car Visor Tissue Holder Mount is made from authentic black leather and is easy to install. But don't let the name fool you! This tissue holder doesn't have to live on the visor, it can also be installed on the dashboard and even in the seatback pocket. The compact size and practical shape also make it the perfect addition to any vehicle.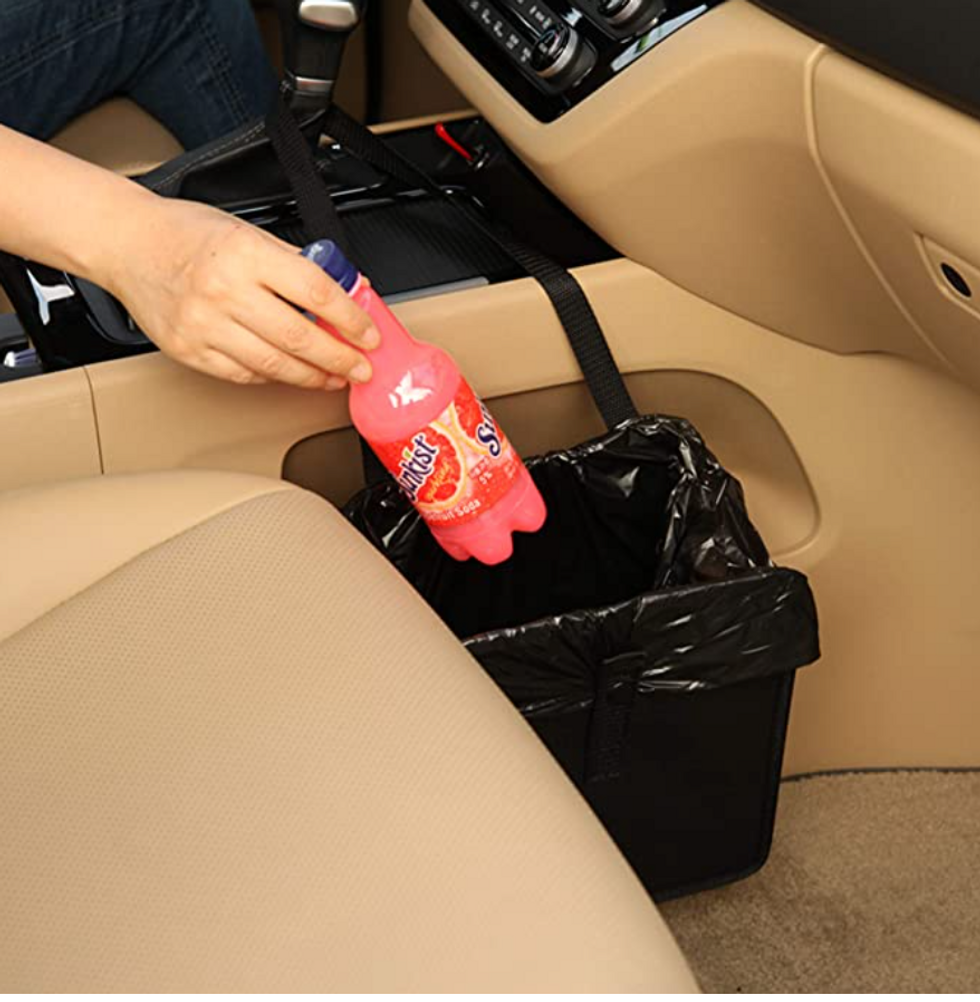 via: Amazon
Are you tired of all the rubbish accumulating on the floor of your car? Well, don't worry! Because KMMOTORS has the perfect solution for you. This Jopps Foldable Garbage Can is easy to install and supplies the perfect storage unit for all your unwanted trash. With 24 inch straps, this disposal unit can be installed anywhere in the car, from the footwell to the back of your seat. The item can also be used to store other items as well, such as toys and other everyday objects.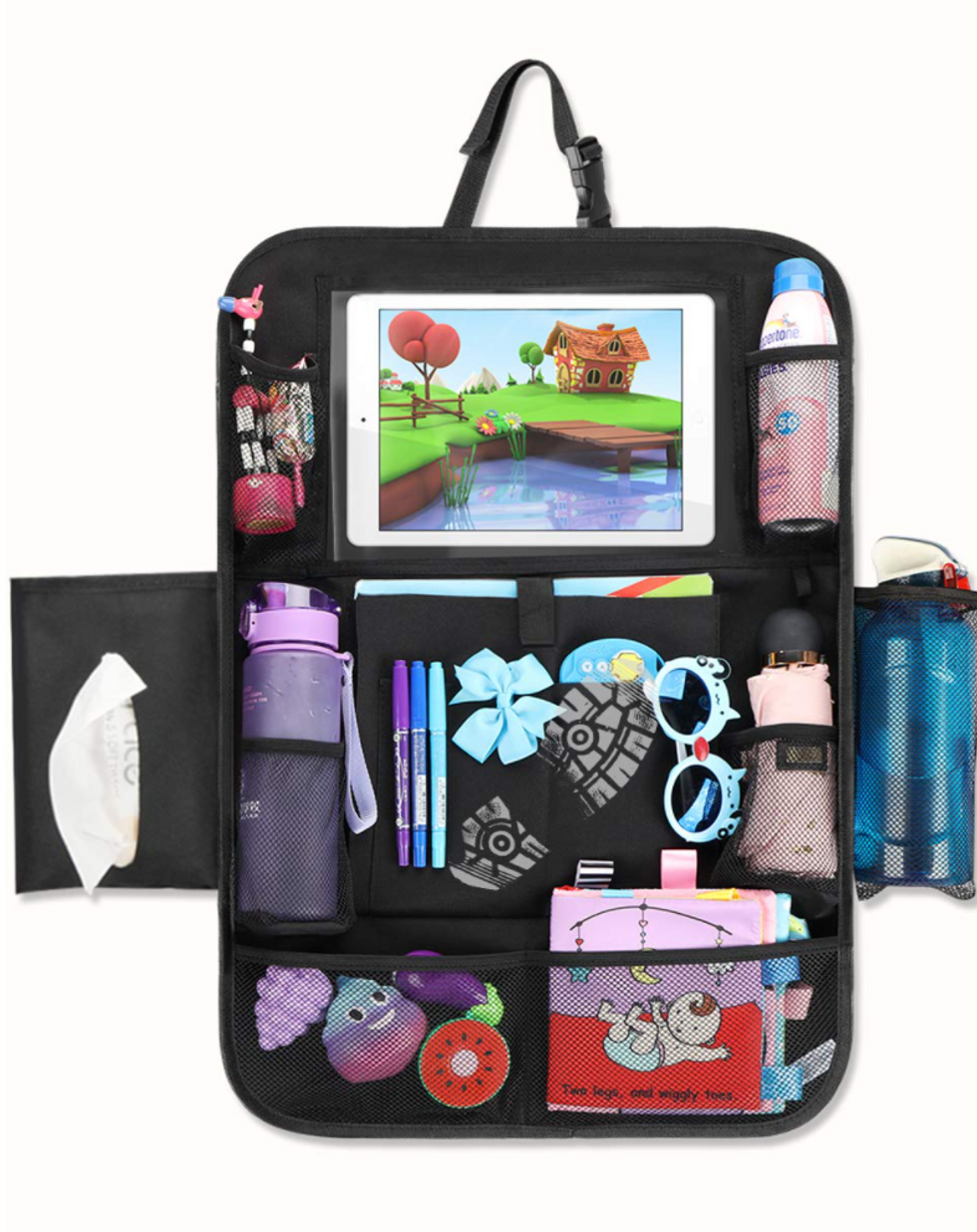 via: Amazon
If you're looking for an organizer that is perfect for toys and childish trinkets, then the Maliton Backseat Car Organizer is the perfect product for you. The item can easily be strapped onto the back of either the driver or passenger seat, its many compartments ready to be filled with any loose and untidy objects. The Maliton Backseat Organizer can also be used to hold electronic devices, such as tablets. Allowing your child to watch their favourite animated series while on a long and tiring drive, making this the perfect product for any family vehicle.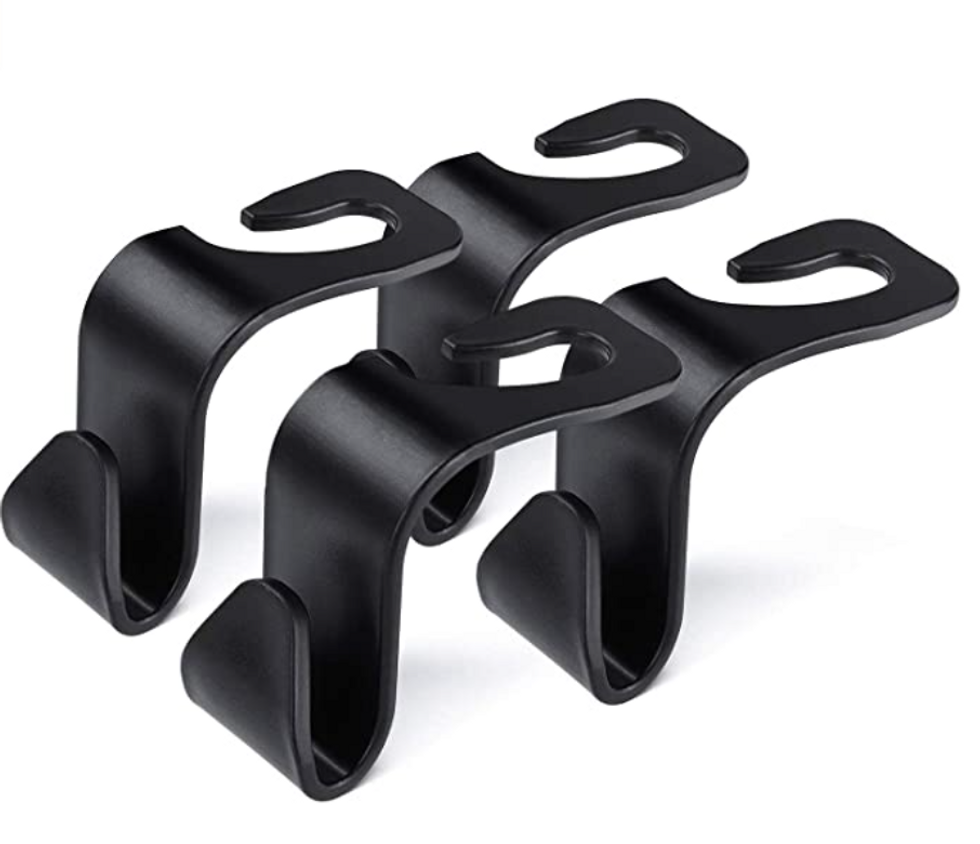 via: Amazon
One of the biggest contributors to vehicle untidiness is bags and coats. So wouldn't it be amazing to have a place to hang your belongings while you drive? Well, with these nifty Houseday Car Seat Headrest Hooks , any seat in your car can be transformed into the perfect place to hang your purse or backpack. Just simply clip onto any headrest and you have a hook ready to hold your favorite hat or raincoat.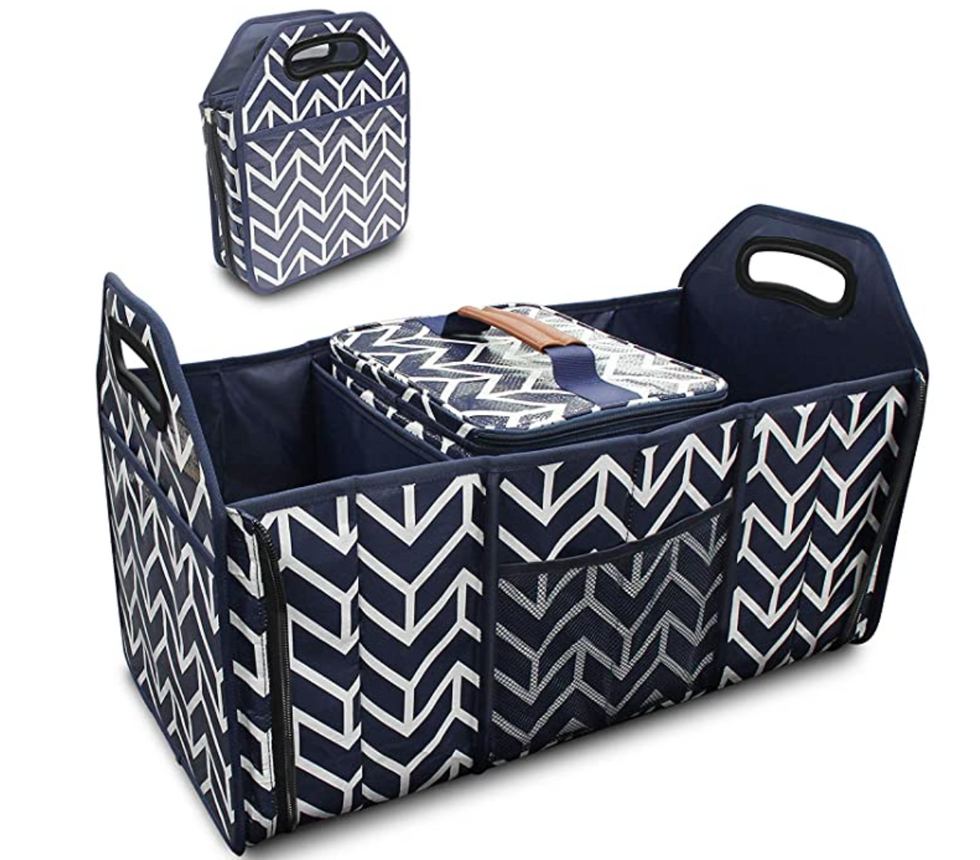 via: Amazon
Sometimes the worst offender for car clutter is the trunk, which can often become a treasure trove of old coats, toys, tools and shopping bags. But with the Bosen Foldable Trunk Organizer , you can easily sort these items into their own individual apartments. Leaving your trunk neat, spacious and beautifully organised. The item is made from plastic and polyester and is finished with a trendy blue and white design. The organiser even comes with a cooling bag for groceries. What's not to love!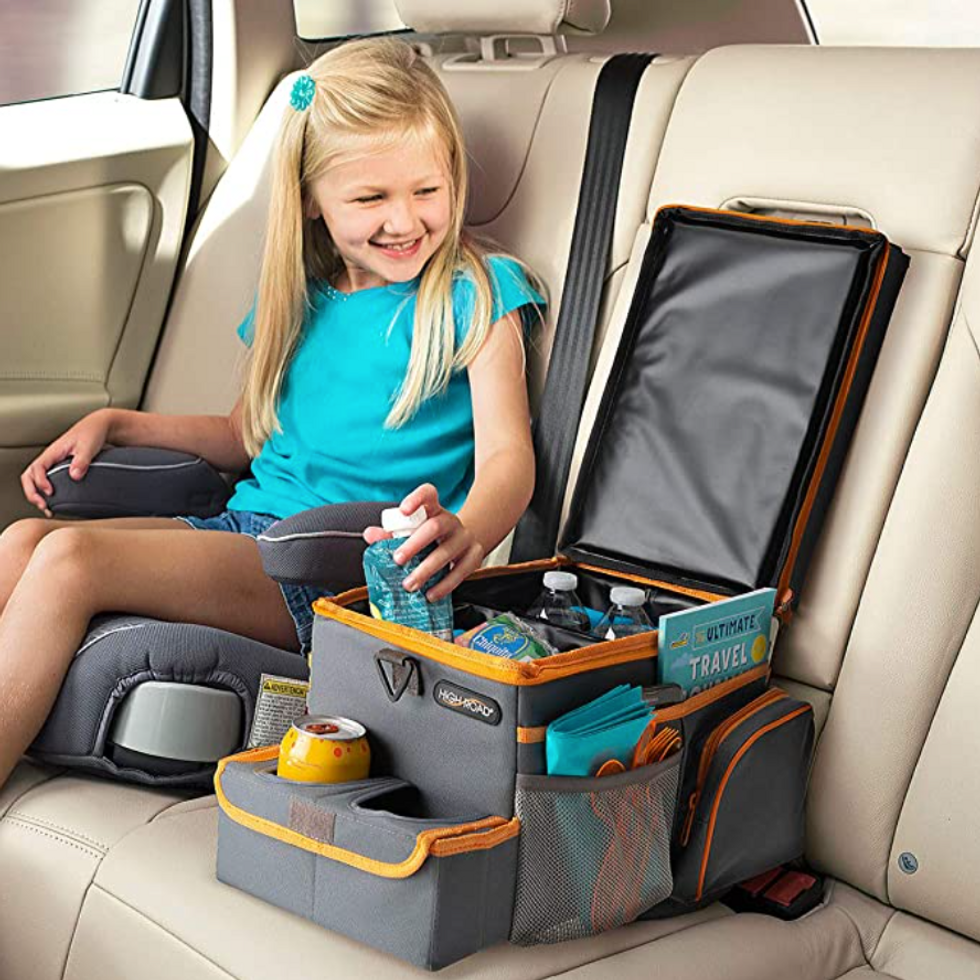 via: Amazon
What if you want an organizer that doesn't hang off the back of your seat? Well, in that case, there is no better product for you than the Talus High Road CarHop Backseat Organizer . This ingenious invention can sit on any seat in the car and provide all the storage you'll ever need for loose toys and snacks. Making it the perfect companion for any child going on a long-distance journey. The item even comes with a shoulder strap, making it perfectly portable and easy to remove.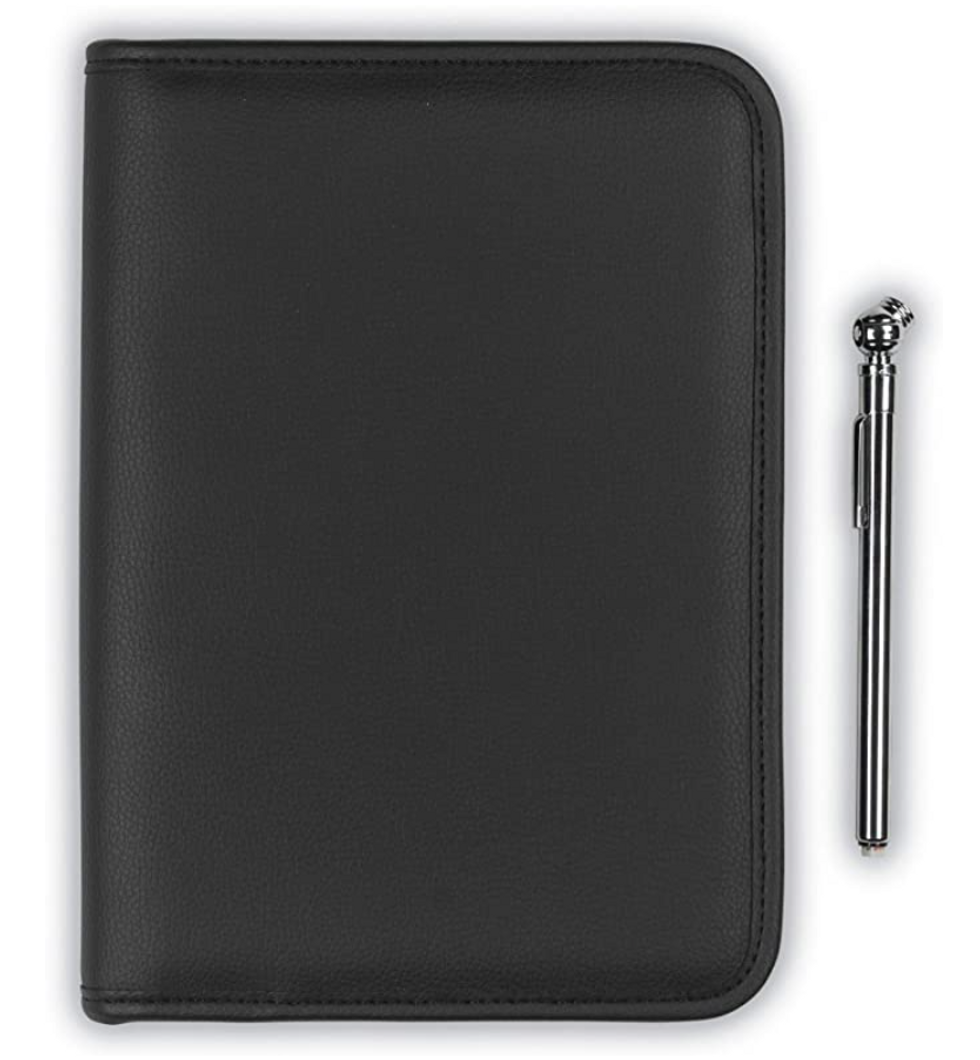 via: Amazon
If you're looking for something a little more compact, then why not invest in a Samsill Glove Box Organizer . This slim leather folder is the perfect place to store any loose documents or notices that have found their way beneath your driver seat. The organizer comes with seven interior pockets and an elastic loop for flexible storage. Making it ideal for your driver's manual and other important documentation you may need to keep safe, dry and close to hand.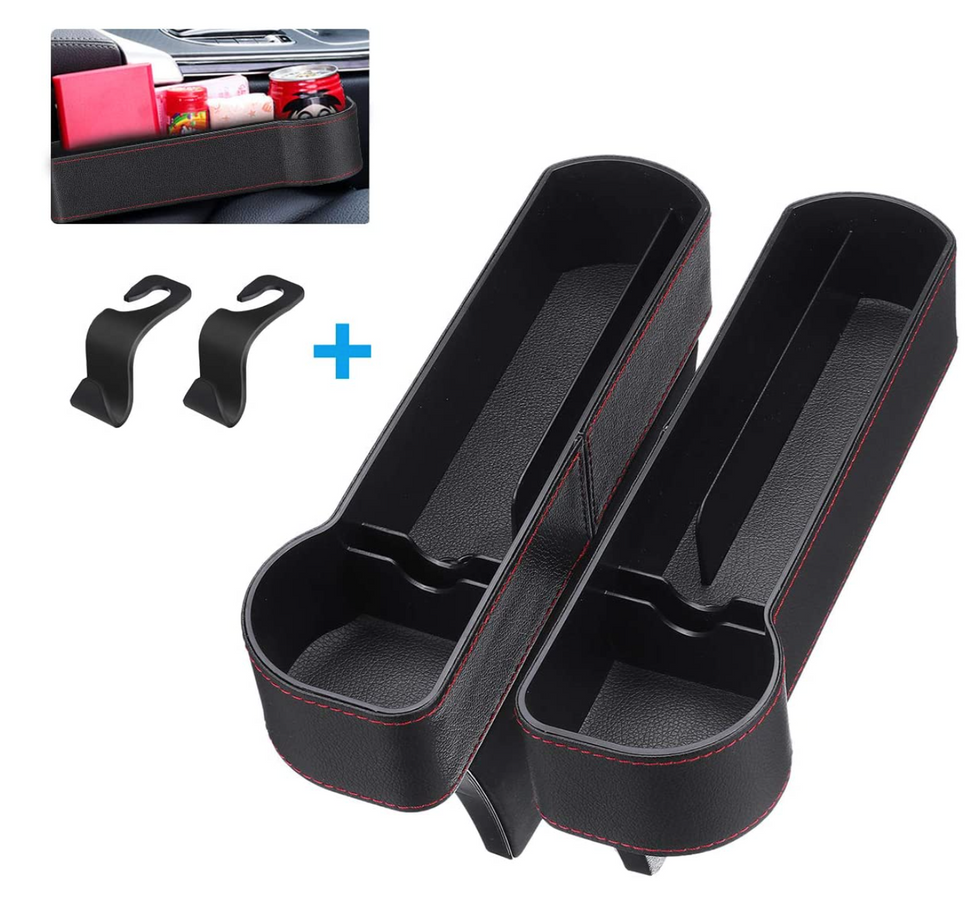 via: Amazon
Sometimes it's the smaller things in life that can get in the way, so why not have a look at the CAMTOA Car Seat Gap Filler . This car organizer can be effectively used to secure your phone, wallet and any other smaller items you may want to keep safe and protected. Made from top quality PU leather, the item can easily be installed between the console and the seat. Providing ample storage for your prized possessions — also there's a cup holder!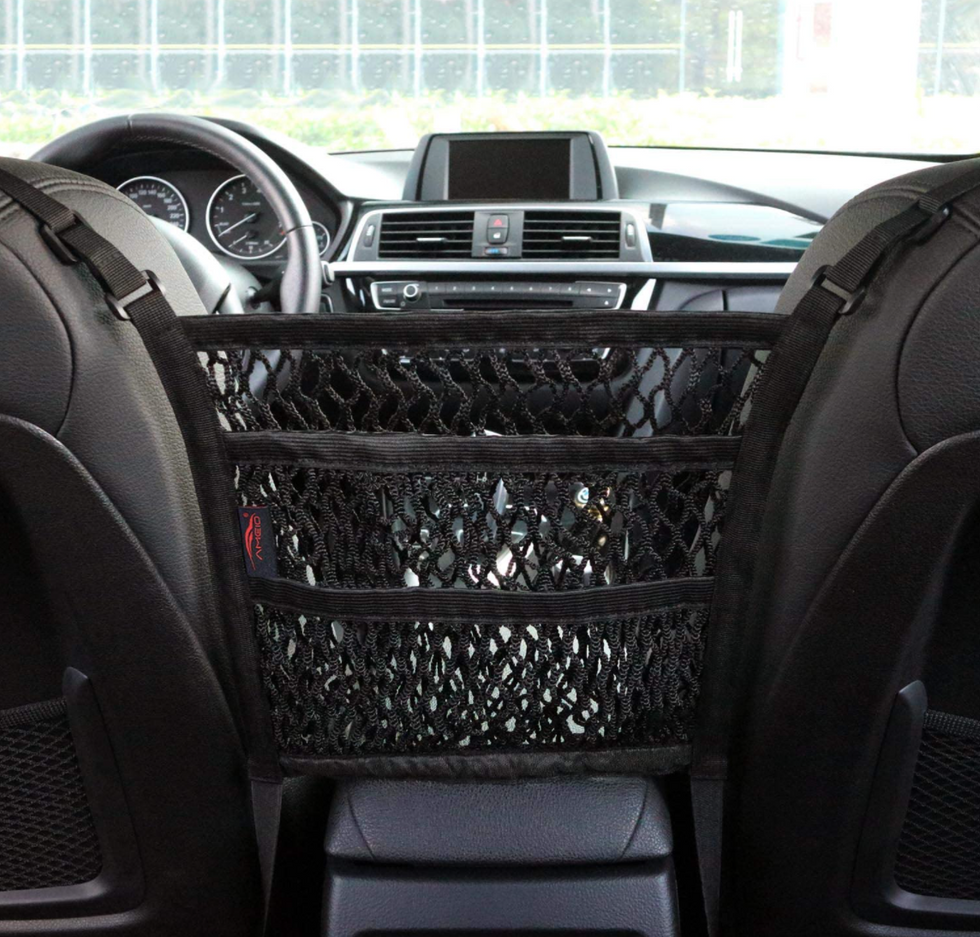 via: Amazon
The AMEIQ 3-Layer Car Mesh Organizer fits perfectly between both the driver and passenger seats, providing storage for a range of items. From soda cans to tissues, this organizer will provide you will all the storage room needed to keep your car clean and spacious. Made from high-quality Nylon, the organizer is strong and durable, making it capable of also housing larger and heavier objects.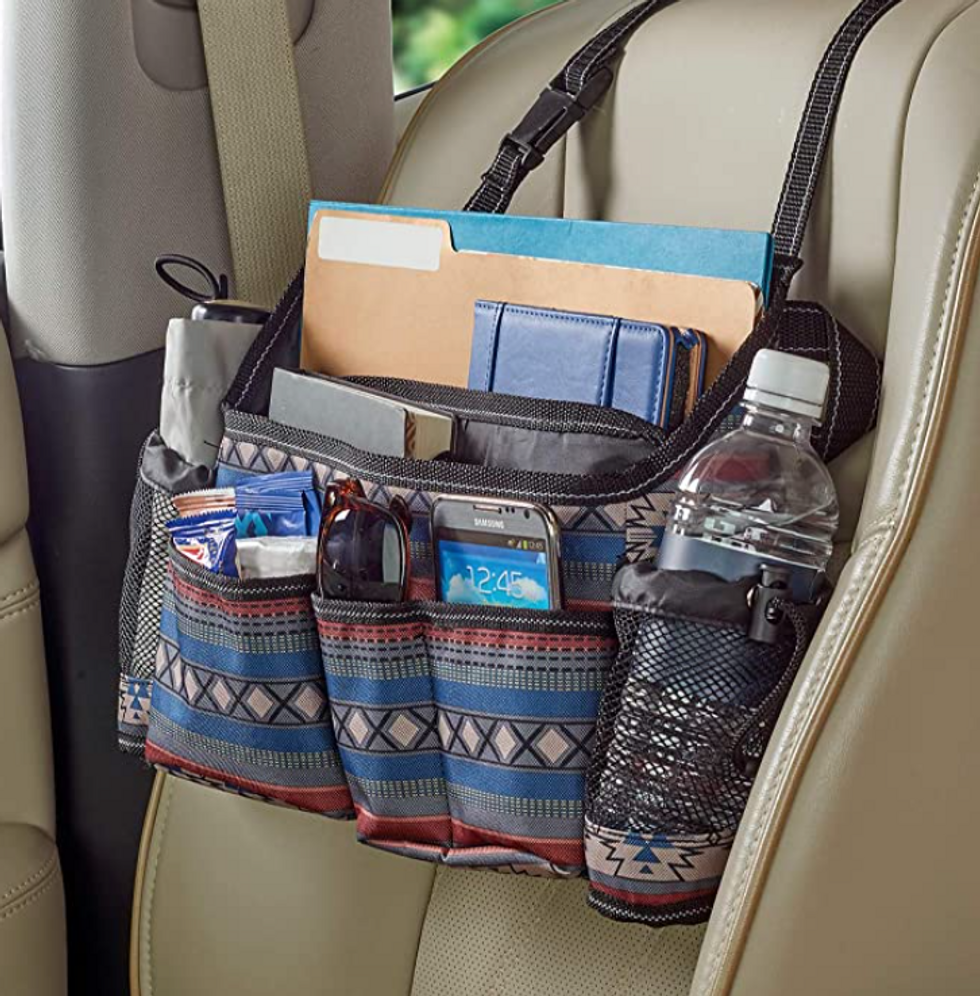 via: Amazon
Are you a solitary driver? Are you looking for an organizer that will keep things close to hand? Then the Talus Front Seat Organizer is the perfect product for you! The organizer comes with eight different compartments, perfect for pens, folders, water bottles and electronic devices. The product can be easily strapped to the passenger seat, making it completely reversible and able to swing from the front to the back. Finished with a colourful and modern pattern, this organizer is hip, aesthetically pleasing and easy to use.