Don't have enough drawer space to store your entire cutlery set? Or, perhaps your knives, forks, and spoons constantly get jumbled up every time you open and close a drawer. Stop what you're doing: You need to purchase one of the best kitchen drawer organizers on Amazon right now.
Why purchase a kitchen drawer organizer on Amazon? Using drawer dividers will instantly organize your cutlery. You'll maximize space like never before, storing more inside your small drawers than you ever thought possible. Plus, these picks are easy to clean, extremely durable, and even stylish.
As usual, there are thousands of drawer dividers on Amazon. That's why we sifted through all of the options to pick the absolute best. Now all you have to do is add to cart and get to organizing .
We hope you find these products as awesome as we do. Just an FYI: We are a participant in the Amazon affiliate program, and may receive a share of sales from links on this page. Prices on Amazon fluctuate so anything mentioned below might change as soon we publish it!
We hope you find these products as awesome as we do. Just an FYI: We participate in affiliate programs and may get a share of the revenue from your purchase.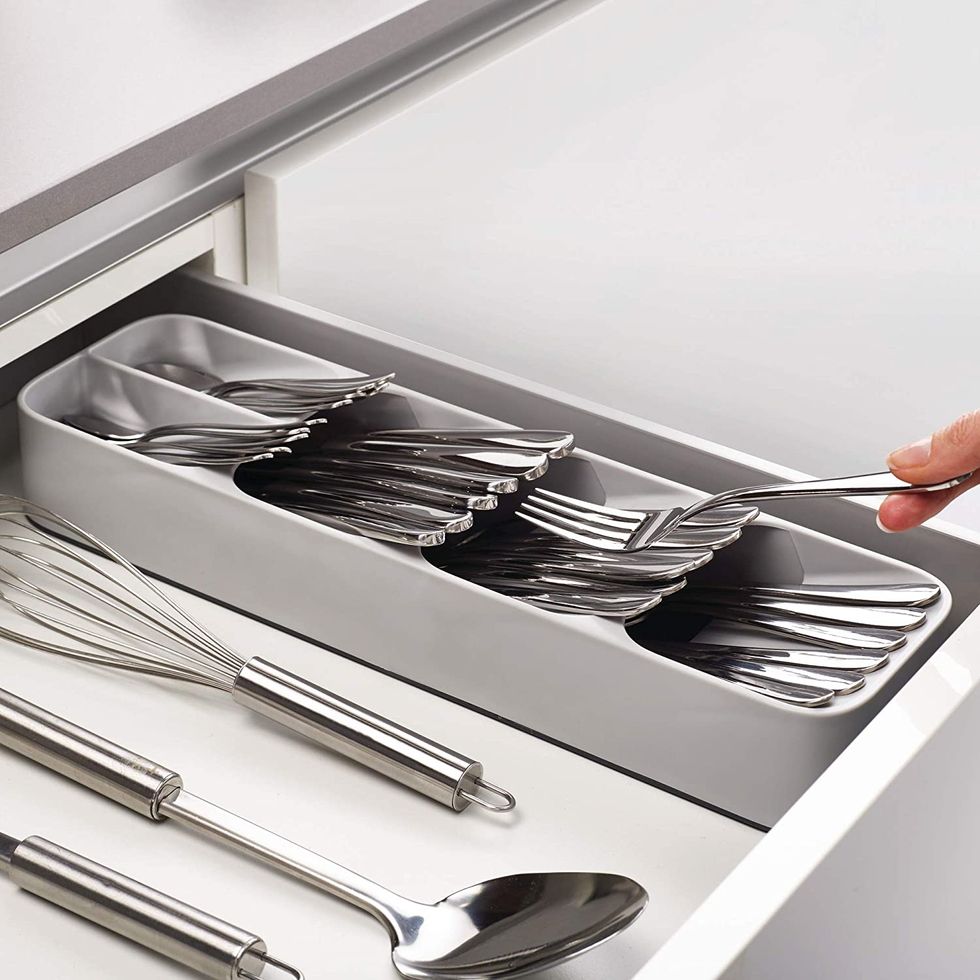 via: Amazon
Maximize space with one of Amazon's best kitchen drawer organizers. With more than 13,000 positive reviews, the
Joseph Joseph DrawerStore Kitchen Drawer Organizer Tray
features individual, stacked compartments for every type of knife, fork, and spoon imaginable. That means you can store up to triple the amount all within the same small drawer. Talk about a serious win.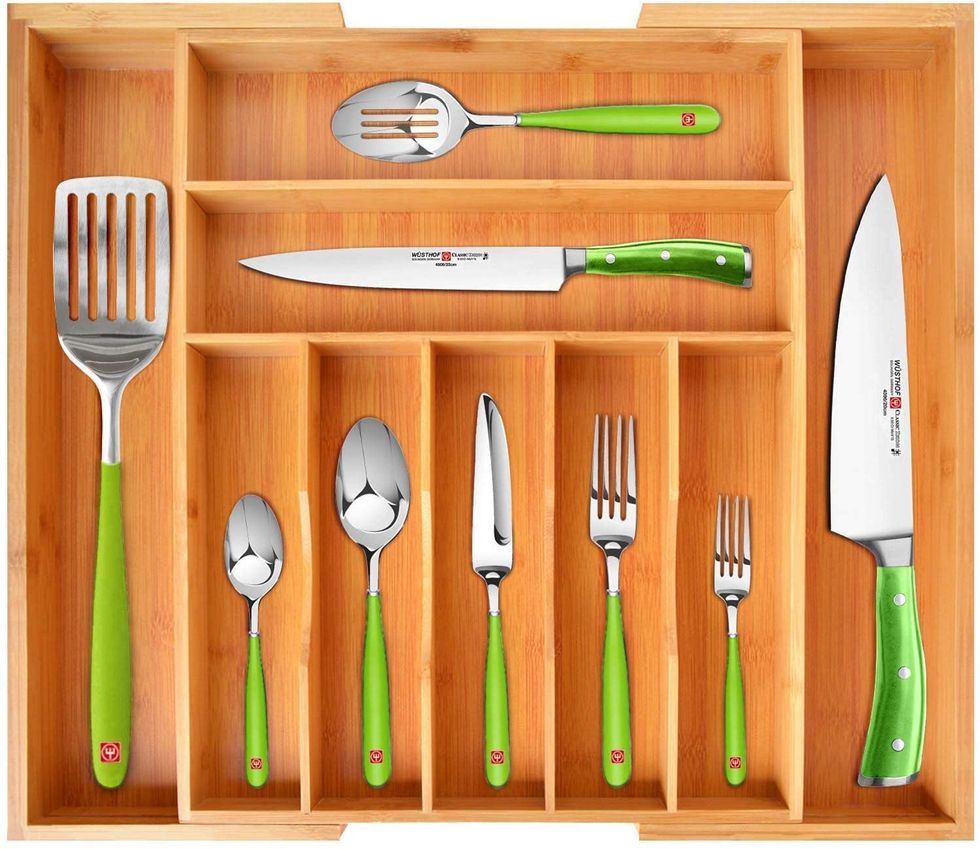 via: Amazon
This earthy
Bamboo Kitchen Drawer Organizer
features deep compartments and an easy-to-clean surface. Even better, it's fully adjustable. That means it'll fit every type of drawer in your current kitchen – and if a move is in your future, this organizer will do the trick in your new kitchen, too.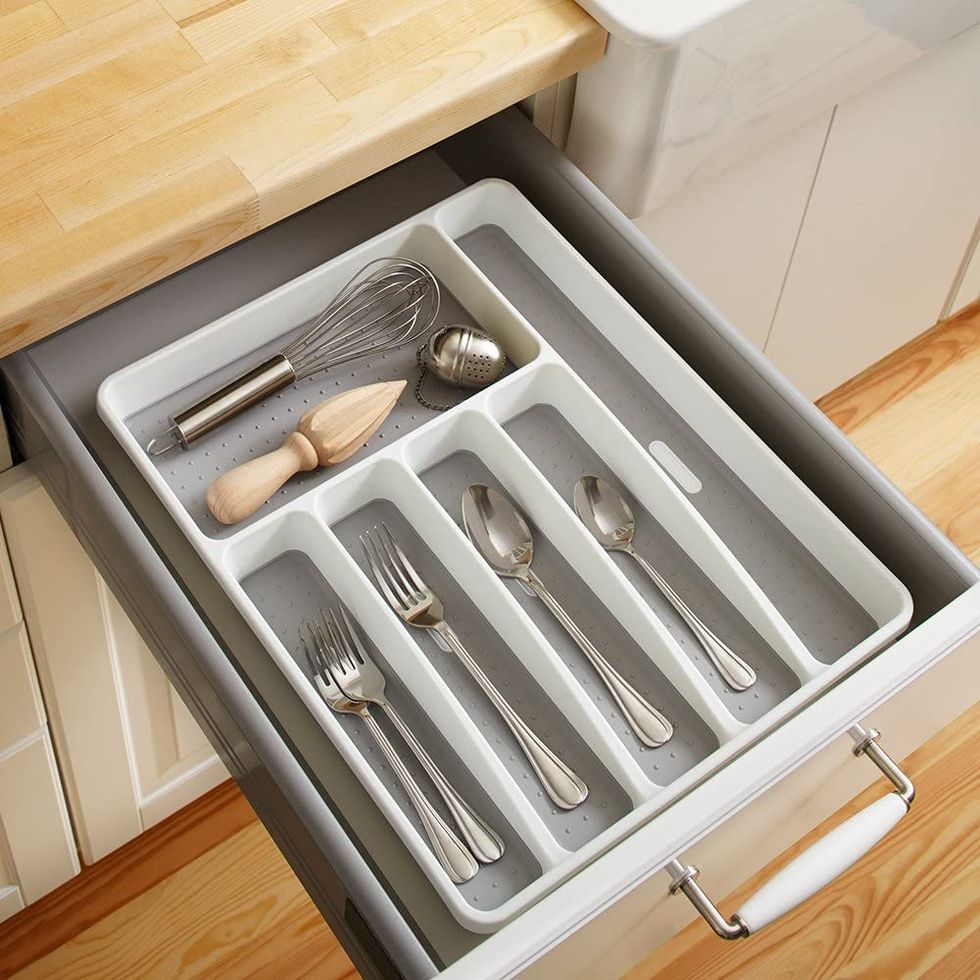 via: Amazon
The madesmart Classic Large Silverware Tray is among Amazon's favorite utensil drawer organizers. With six trusty compartments, this item is beloved by thousands of reviewers for its rounded corners, soft-grip lining, and non-slip rubber feet.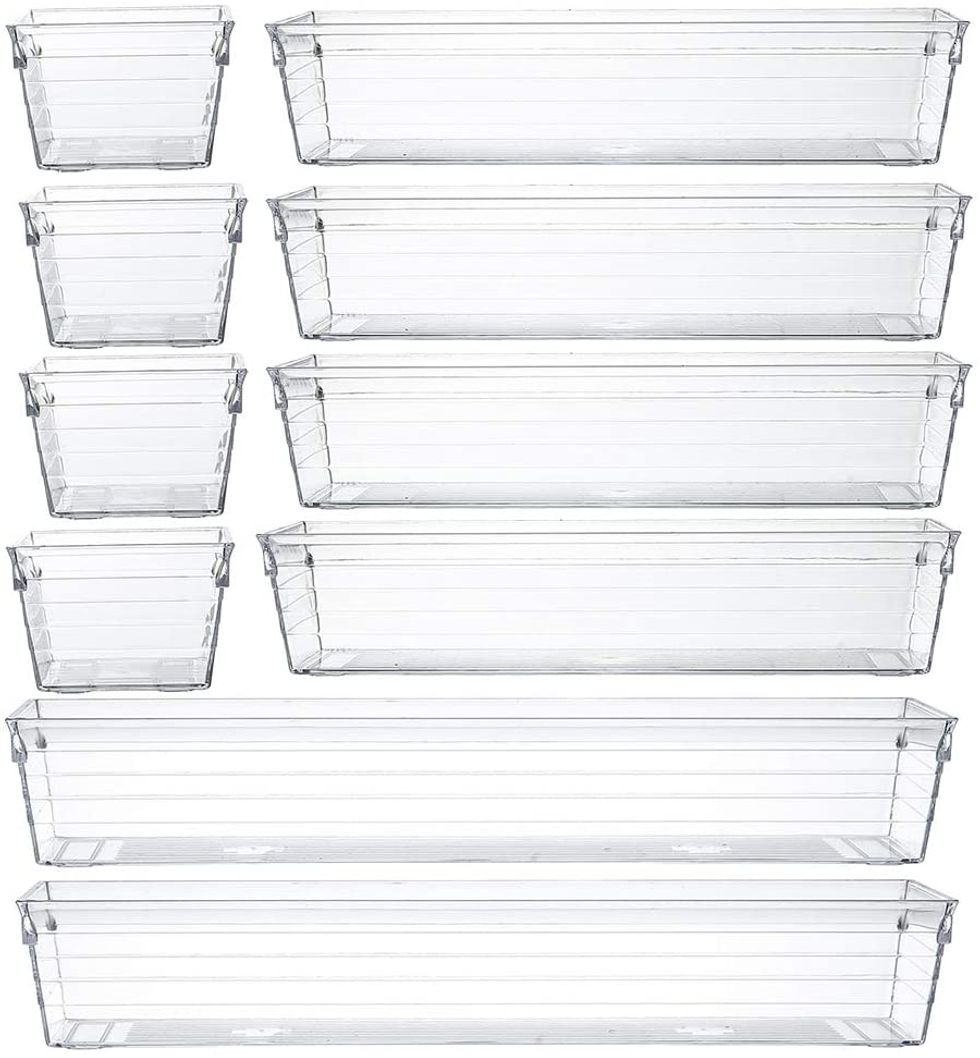 via: Amazon
Looking to customize your kitchen drawers with something durable and reliable? Then this Clear Plastic Drawer Organizer Tray Set is for you. Mix and match between tray shapes and sizes to fit all of your cutlery between your various kitchen drawers.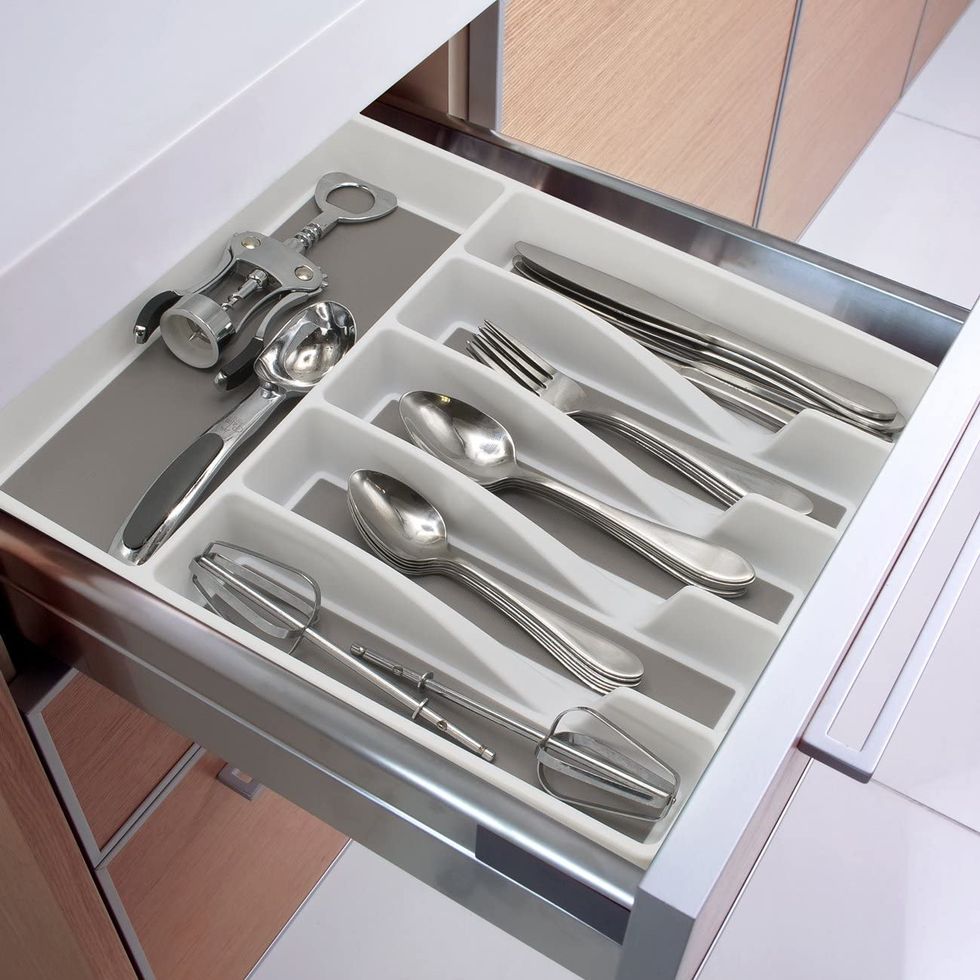 via: Amazon
If you're in the market for an adjustable kitchen drawer divider, check out the
Sorbus Flatware Drawer Organizer
. With eight compartments, this gadget will keep your knives, forks, spoons, and other serving utensils easily accessible and neatly arranged.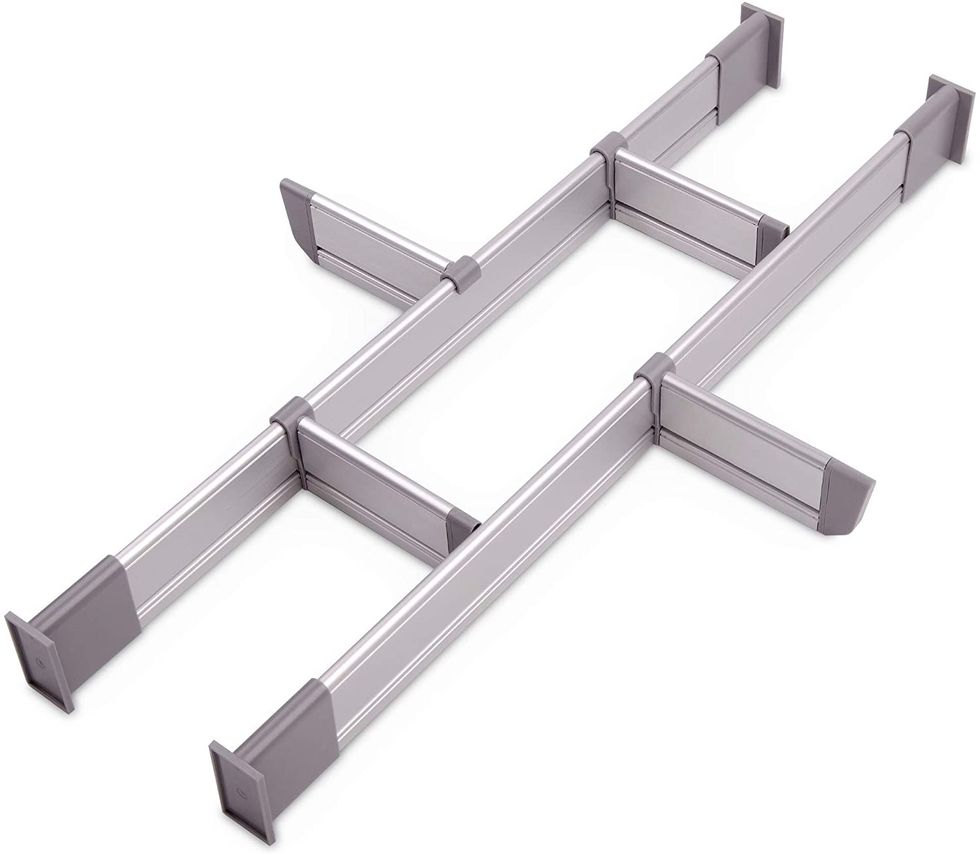 via: Amazon
So you don't want to commit to an actual drawer tray, but you still want to take advantage of the same level of organization? We hear you. That's why you should purchase one of Amazon's best kitchen drawer dividers. We love the
Practical Comfort Adjustable Drawer Organizer
for its sleek look, durable material, and incredibly adjustable nature.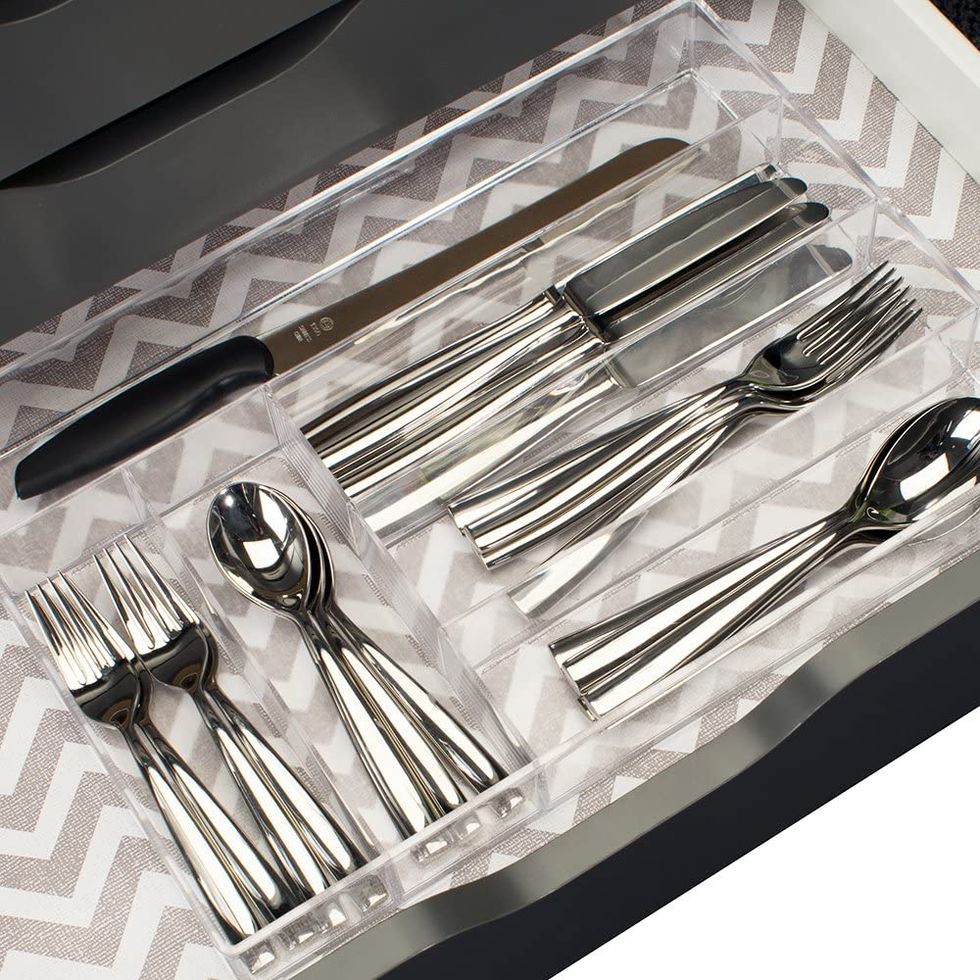 via: Amazon
Say your kitchen drawers have a funky and stylish design (see above) that you don't want to cover up with a traditional, solid color kitchen drawer organizer. Lucky for you, this
Clear Plastic Silverware and Utensil Organizer
will let your drawer style shine while providing some much-needed organization. You're welcome.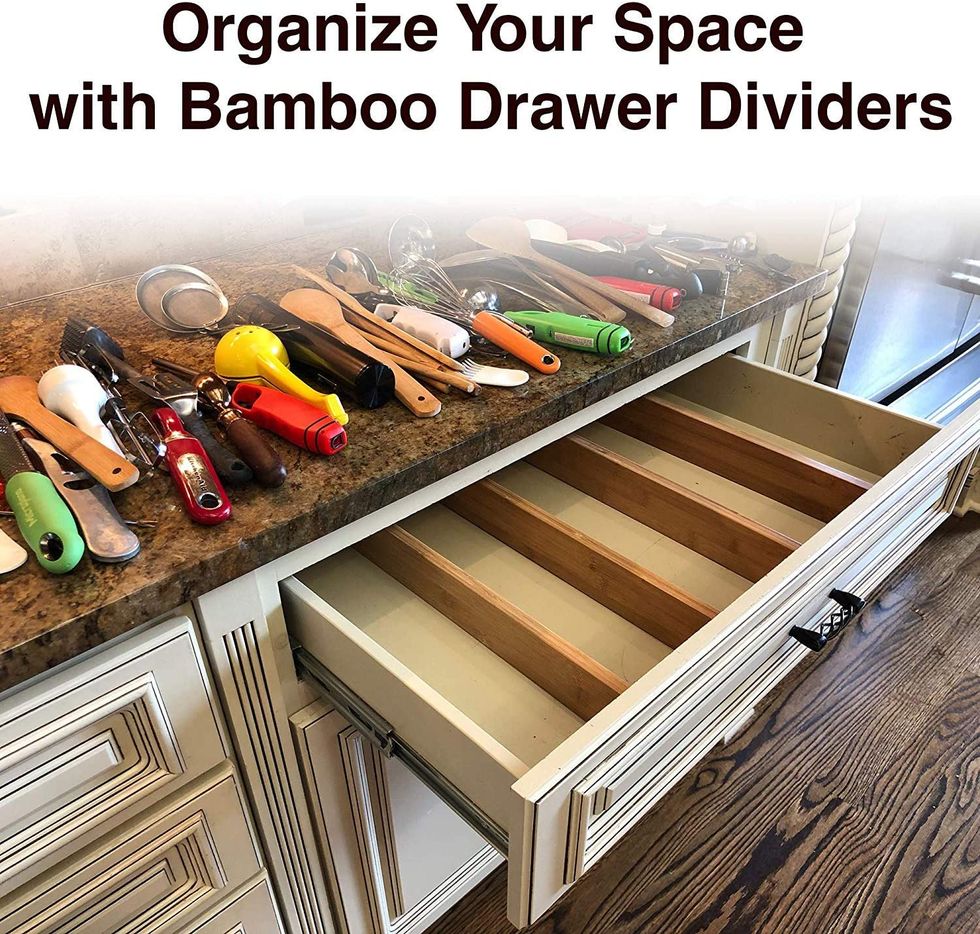 via: Amazon
Looking for adjustable kitchen drawer dividers that match your wood-themed kitchen? These
Adjustable Bamboo Drawer Dividers
will ensure every drawer in your kitchen stays organized, neat, and easy to access. Don't worry if your drawers are different sizes. This product is completely adjustable.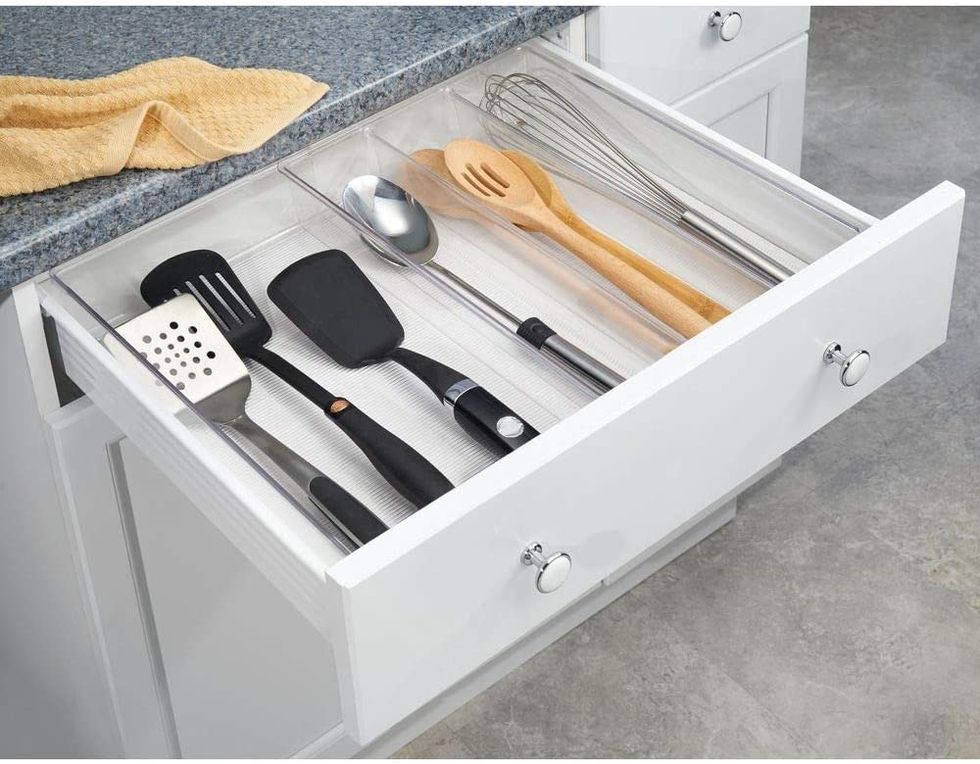 via: Amazon
You've organized all of your cutlery, but now you're looking for an adjustable kitchen drawer organizer for larger utensils. The
mDesign Adjustable, Expandable 4 Compartment Kitchen Cabinet Drawer Organizer
is perfect for serving spoons, cooking utensils, and other gadgets.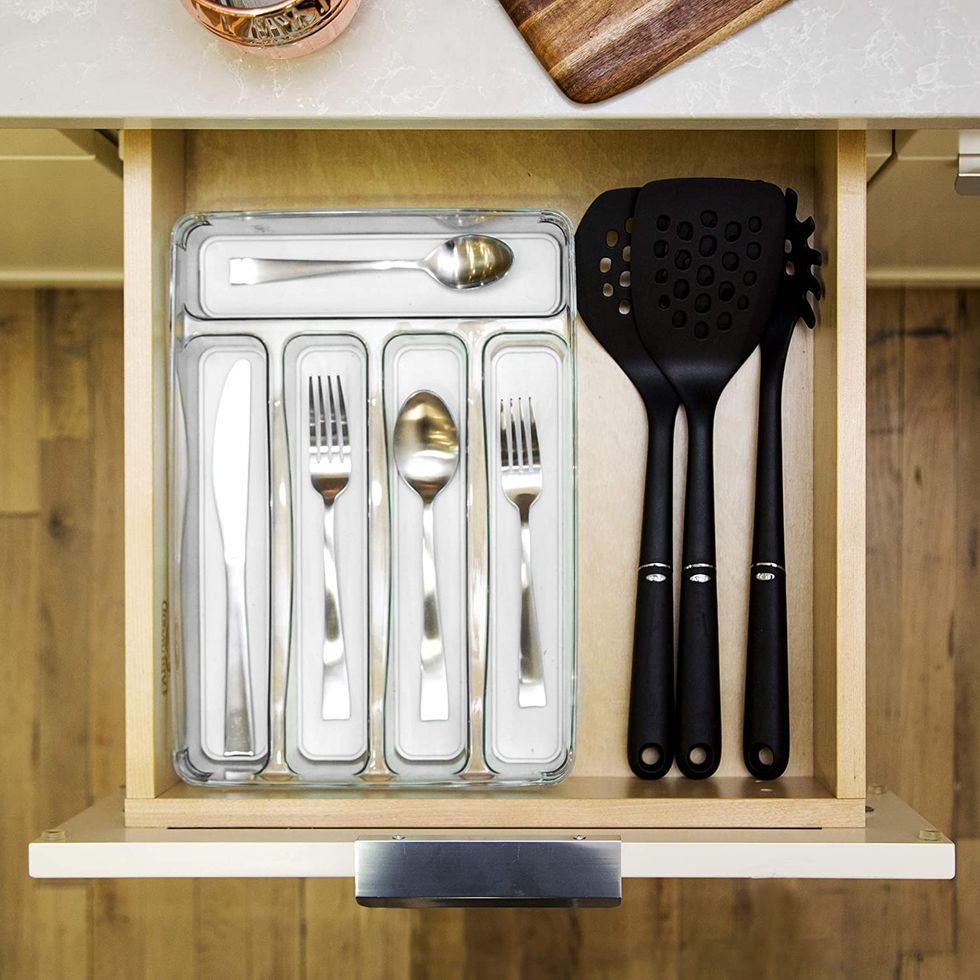 via: Amazon
This small but mighty kitchen drawer organizer is a fast and simple way to keep a mini set of cutlery neatly arranged. Plus, the
BINO 5-Slot Silverware Organizer
is made from strong BPA-free clear plastic. Lined with removable rubber inserts, you'll never have to worry about your cutlery slipping, sliding, and possibly getting damaged. Phew.