Baking a fantastic batch of chocolate chip cookies is tough to pull off. There are so many ways that things can go horribly wrong: they can be overcooked, undercooked, too dry, too moist, or, worst of all, not have enough chocolate chips. Luckily, I've spent the last six months of my life perfecting my cookie recipe and will walk you through the simple step-by-step instructions. Keep scrolling to learn how to bake the best chocolate chips cookies ever .
From what types of sugars to include to what baking tools you'll need to master this recipe, this is how to bake the best chocolate chip cookies of all time. And yes, I realize that might be a lofty claim, and I'm okay with that. Trust me, once you try one you'll understand.
We hope you find these products as awesome as we do. Just an FYI: We are a participant in the Amazon affiliate program, and may receive a share of sales from links on this page. Prices on Amazon fluctuate so anything mentioned below might change as soon we publish it!
We hope you find these products as awesome as we do. Just an FYI: We participate in affiliate programs and may get a share of the revenue from your purchase.
Start out by preheating your oven to 375 degrees Fahrenheit.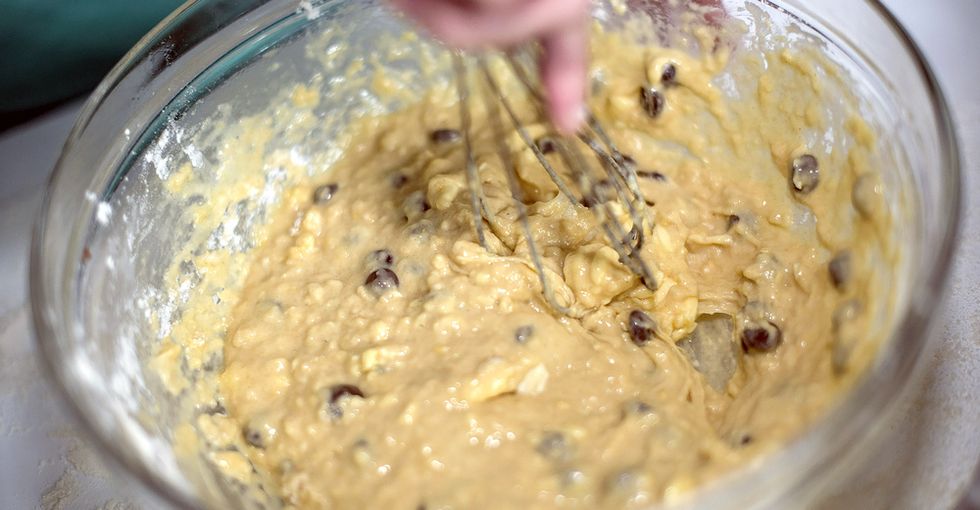 via: Shutterstock
Grab a medium-sized mixing bowl and add your dry ingredients: three cups of all-purpose flour, one teaspoon of baking soda, one teaspoon of salt, and 1/2 teaspoon of baking powder. Whisk together until combined and set aside. In your largest mixing bowl, add one cup of softened salted butter, one cup of white granulated sugar, and one cup of packed light brown sugar and cream together.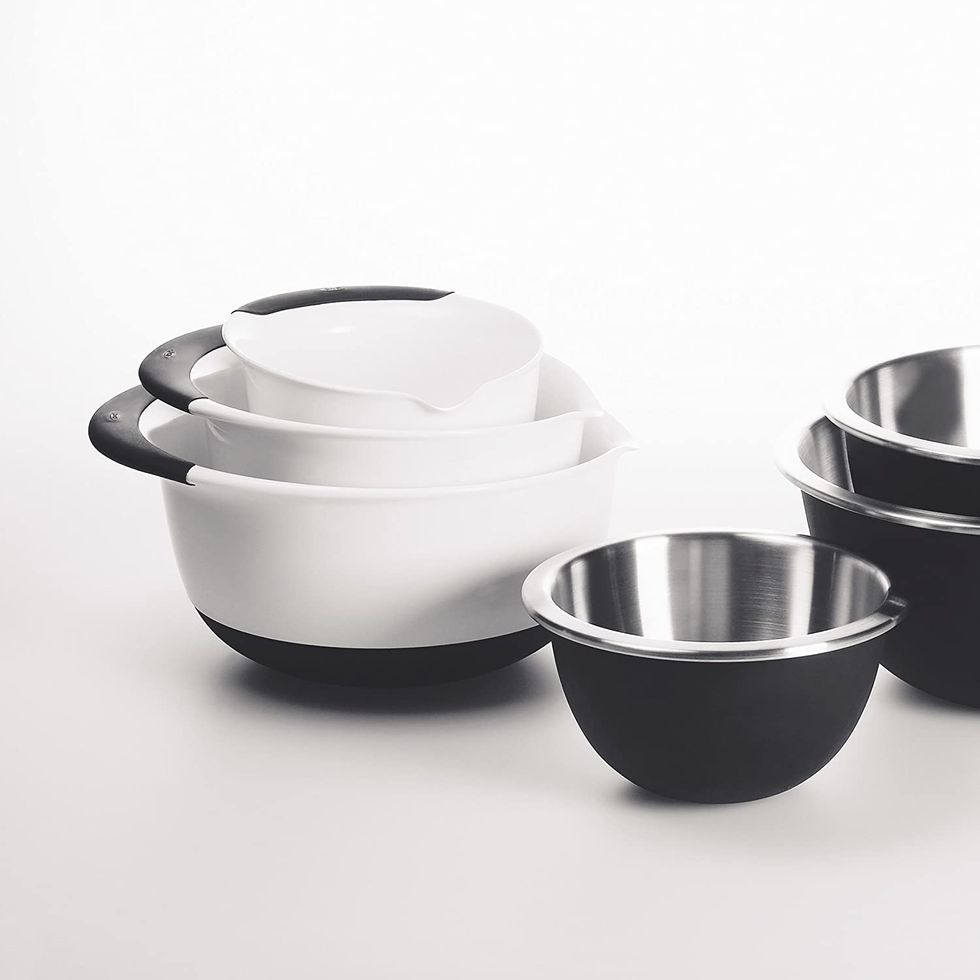 via: Amazon
This
OXO Good Grips Mixing Bowl Set with Black Handles
is the best option on Amazon. It includes a 1.5-quart, 3-quart, and 5-quart mixing bowl so you always have the right size for your recipe. Plus, they stack for easy storage and have rubber bottoms so they won't slide around on your countertop.
Add one cup of softened salted butter, one cup of white granulated sugar and one cup of packed light brown sugar to the bowl with your butter and sugar and cream together.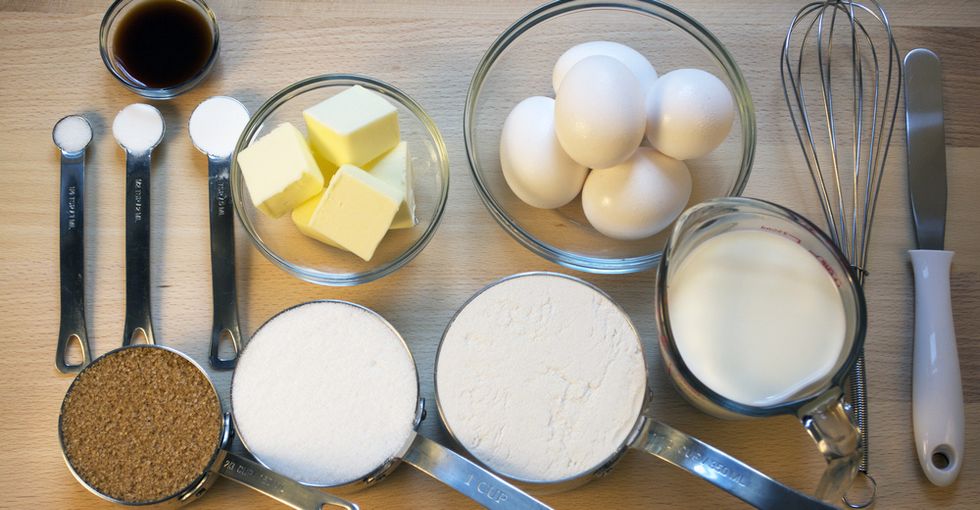 via: Shutterstock
Beat in two large eggs and two teaspoons of pure vanilla extract. You don't want to skimp with the vanilla; get the good stuff and don't be afraid to add a bit extra. Mix the dry ingredients with the wet ingredients until sufficiently combined. Pour a 12-ounce bag of high-quality semi-sweet chocolate chips to your dough and mix with a spatula or wooden spoon until just combined.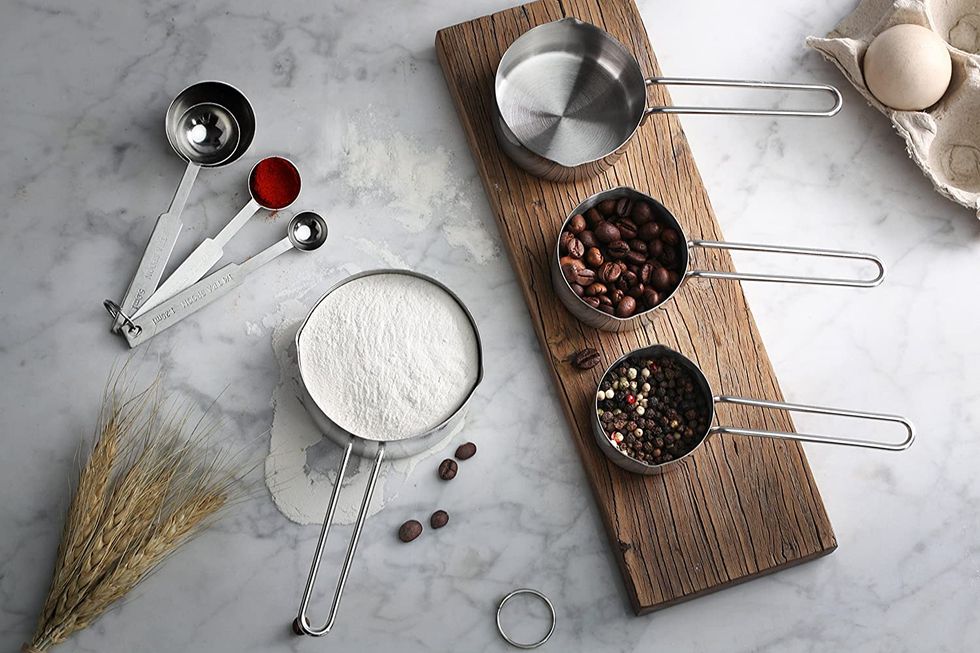 via: Amazon
That's why a good set of measuring spoons and cups is so crucial. This
New Star Foodservice Stainless Steel Measuring Spoons and Measuring Cups Combo
is sleek, sturdy, and has easy-to-read measurements so you know exactly what you're putting into your dough or batter.
Now that your dough is complete, it's time to get it ready for the oven.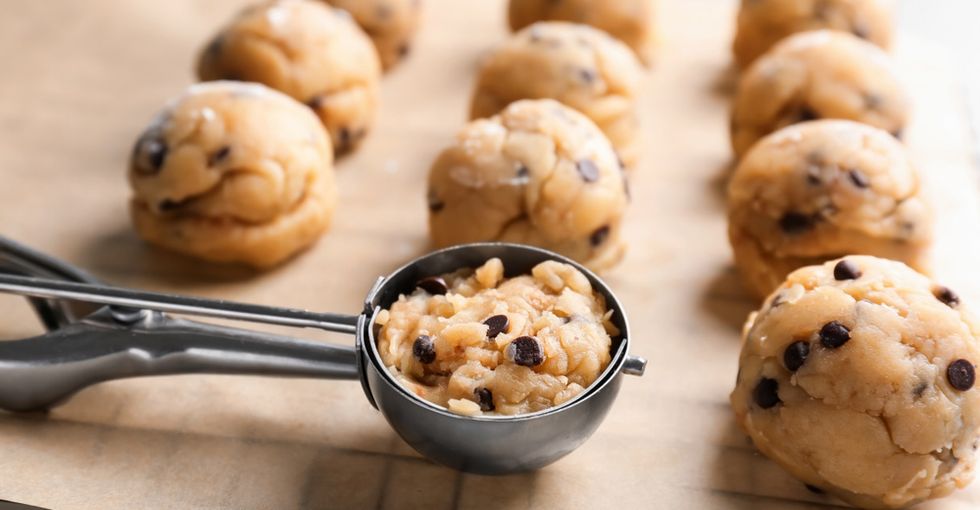 via: Shutterstock
If you want your cookies to bake evenly and be exactly the same size, a cookie scoop is your best option. Not only does it divide your dough into perfectly sized portions, but it also keeps your hands clean. I used a cookie scoop for the first time a few months ago and was shocked at how much more professional-looking and tasting my cookies turned out.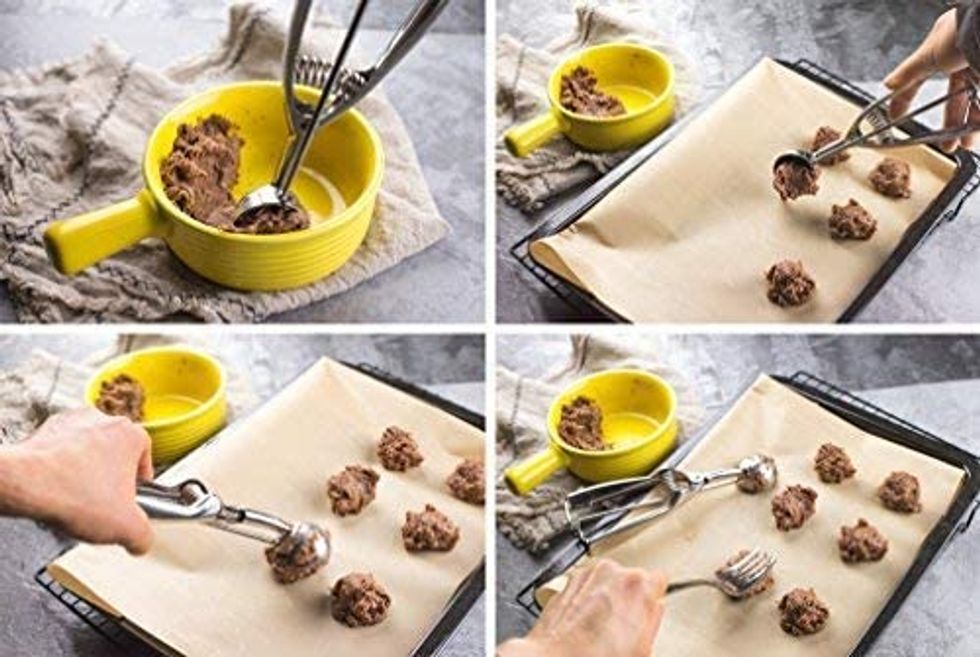 via: Amazon
This
Solula Professional 18/8 Stainless Steel Medium Cookie Scoop
is the same one that professional bakers use, so you know it's good. It's made from strong stainless steel and has a quick-release design that makes it easy to pop your cookie dough balls onto your cookie sheet.
Dip your cookie scoop into your mixing bowl, grab a ball of dough, and place it onto your cookie sheet.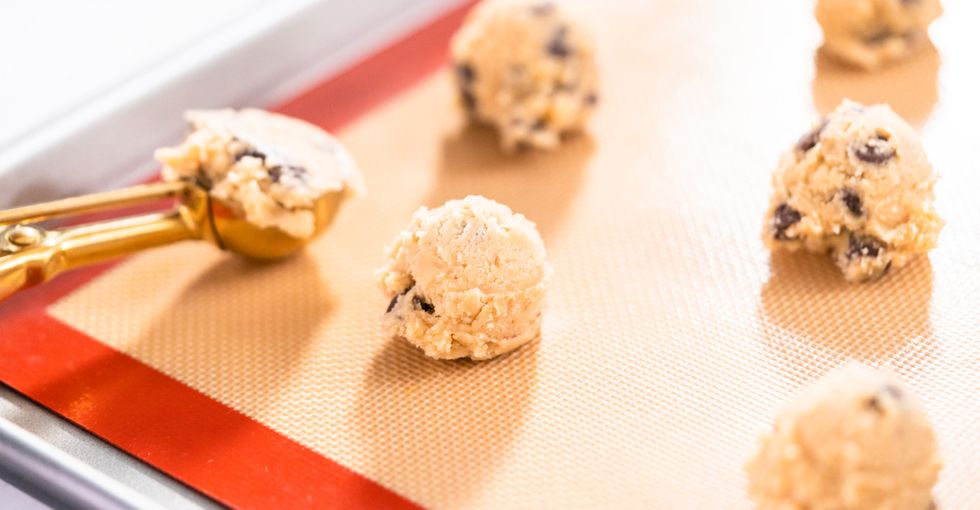 via: Shutterstock
But wait! Instead of putting your dough directly onto your sheet, place a silicone mat on first. This allows your cookies to slide effortlessly off your sheet after baking without sticking or burning. There's no need to grease or spray your pans before baking and they're oven-safe up to 480 degrees Farenheight.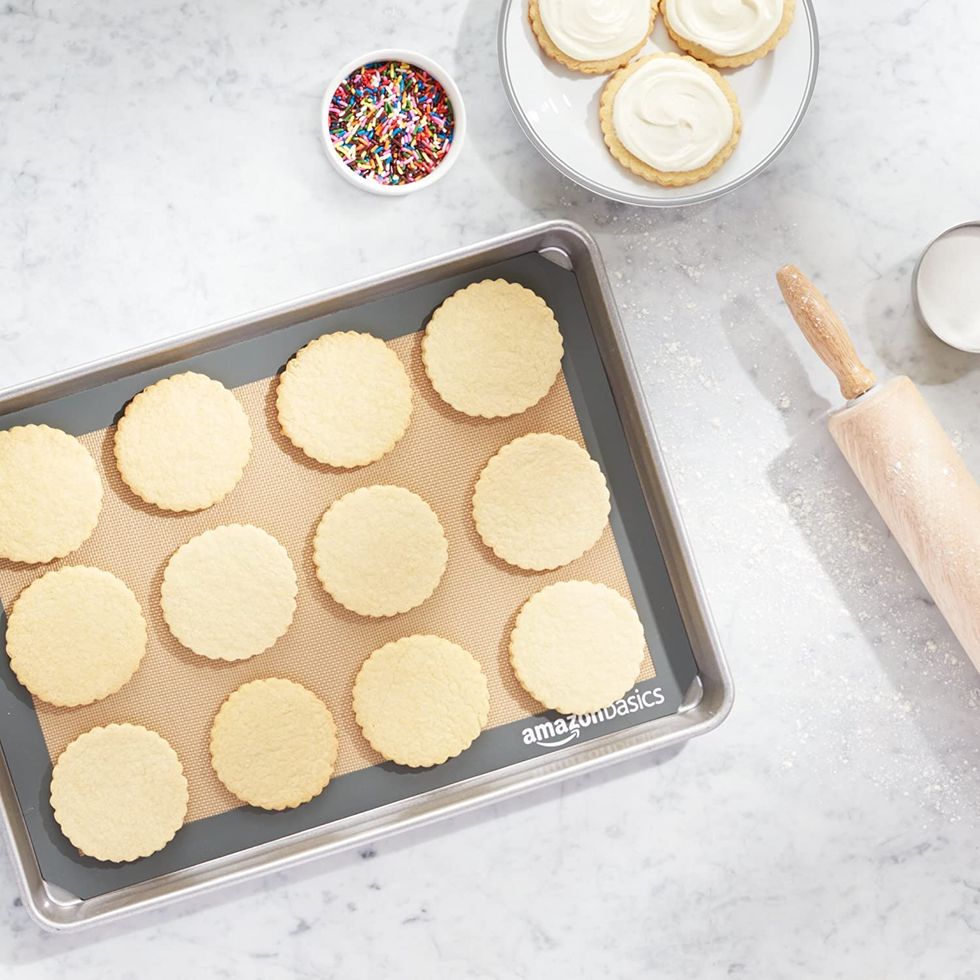 via: Amazon
I've used these
AmazonBasics Silicone Non-Stick Food Safe Baking Mats
for cookies, brownies, cupcakes, cheesecakes, and even roasted chickens and steaks. They make cleanup a breeze, are dishwasher-safe, and reduce unnecessary waste since I no longer buy parchment paper or aluminum foil.
Space out your dough evenly on your cookie sheets.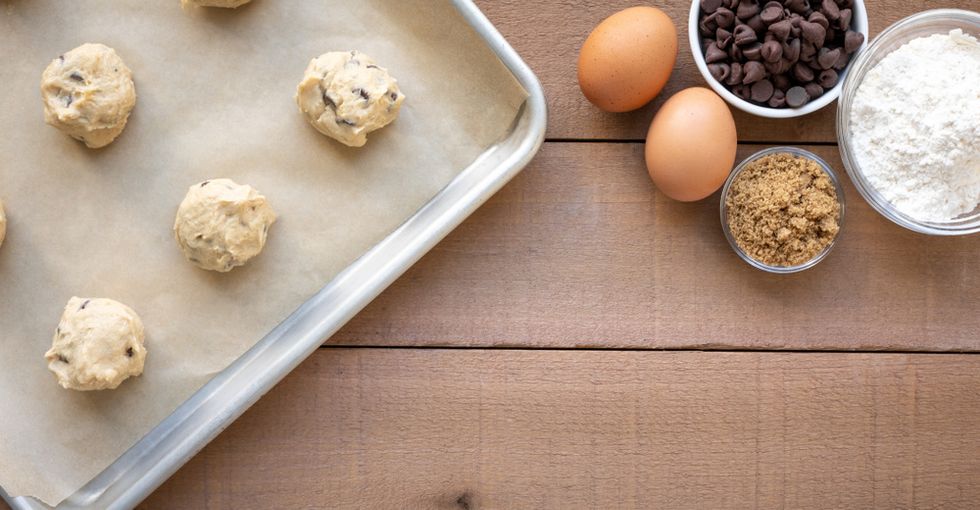 via: Shutterstock
For this recipe, I recommend making dough balls that are roughly two to three tablespoons in size, but you can make them larger or smaller, depending on your personal preference. Arrange them in even rows on your sheet so they have enough space to spread out. Pop them in the oven and set your timer for eight to ten minutes. Take them out when they're just starting to turn brown on the tops. Be careful not to overbake!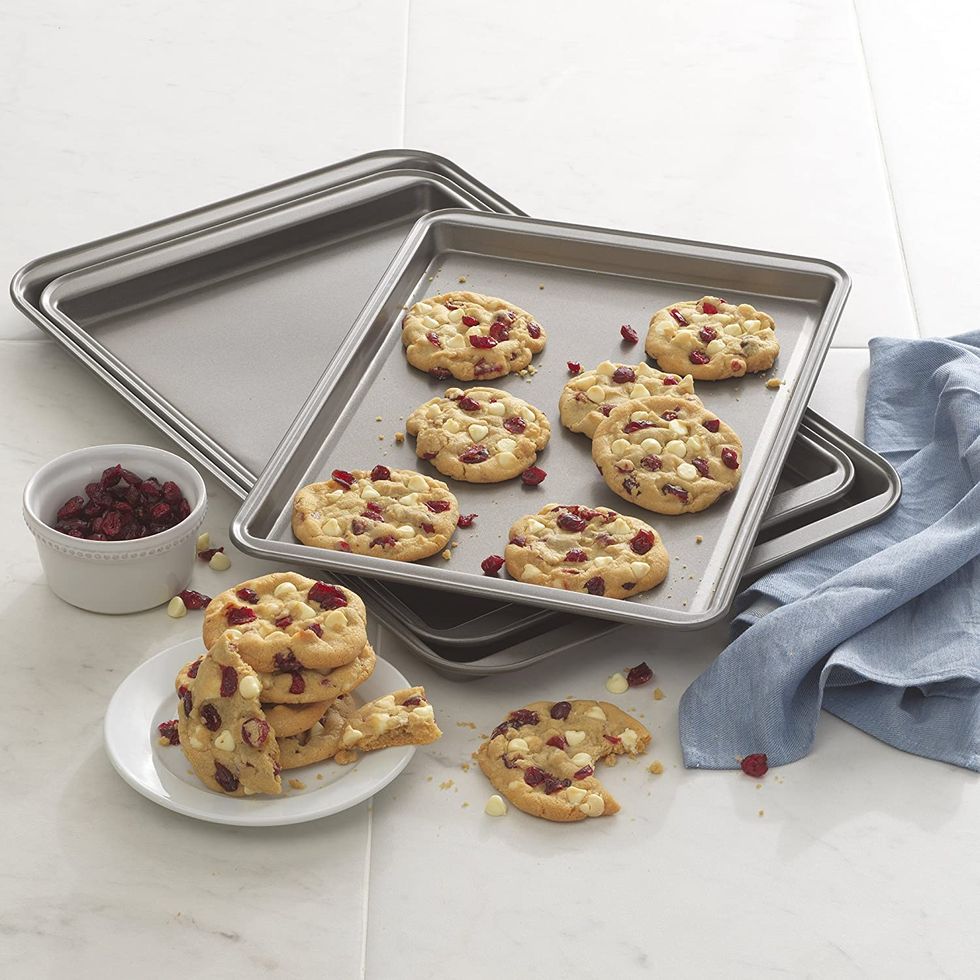 via: Amazon
These
Good Cook Set Of 3 Non-Stick Cookie Sheets
are an excellent combination of quality, simplicity, and affordability. You get three different sizes and the non-stick coating means you won't need to spend hours scrubbing off stuck-on grease. Allow your cookies to sit for two minutes on these sheets before transferring them to a cooling rack. Enjoy!