Sometimes the harsh realities of adulthood make it hard to enjoy the freedom we craved as idealistic youths. Taxes, health insurance, meetings that should have been emails come for us all. But when you're a woman, you get to add a mountain of stuff to your to-do list.
In addition to being a fully functional adult, you're pressured to always look like you actually got more than five hours of sleep. Meanwhile, you're also dealing with domestic labor relegated to you by roommates, significant others, and even coworkers who can't read labels or load dishwashers. Luckily, scores of products exist to make your life easier and much more relaxing. You might save so much time that you will get more sleep!
We hope you find these products as awesome as we do. Just an FYI: We are a participant in the Amazon affiliate program, and may receive a share of sales from links on this page. Prices on Amazon fluctuate so anything mentioned below might change as soon we publish it!
We hope you find these handy products as awesome as we do. Just an FYI: We participate in affiliate programs and may get a share of the revenue from your purchase.
Sitting or standing for long hours each day can do a number on anyone's back, but this can be especially strenuous for those with large bra cup sizes. This cushion helps you stretch out your back, supplying similar relief to a chiropractor visit or a yoga class. In addition to helping with chronic pain, it can also help you improve your posture for a more dominating presence at work.
Packing toiletries for a trip is easily the most tedious part of the process. This makeup contains four, clear bags that can be removed via velcro when you just need your shower supplies. The bag can be hung for accessibility to each compartment and rolled up into a compact, rectangular prism.
Despite your most aggressive efforts, sometimes hormones or stress decide you're getting a pimple. This cult-favorite patches come in different sizes and cover up pimples without drawing attention to themselves. You can wear makeup over the patches while they work to reduce the size of the pimple throughout the day!
This Safe Place for Your Passwords
Instead of using sticky notes or the same password over and over again, store unique passwords in this journal. The journal holds more than 160 slots for your passwords and usernames. It's about the size of a small paperback book, so it's easy to hide on a bookshelf!
This Long-Lasting Lip Balm
This nourishing balm can soothe even the most chapped lips. Vitamin E and green tea work to repair damage while the balm protects your lips with 25 SPF. The balm also protects against harsh climates, standing up to windburn and extremely high or low temperatures. No matter how tough the environment, your lips will look and feel great!
Finally get a dedicated place for all of your heat-styling tools with this over-the-door caddy. It fits on your sink cabinet so you can have quick access when doing your hair. The metal is heat-resistant and there's a little holster that should fit most hair dryers.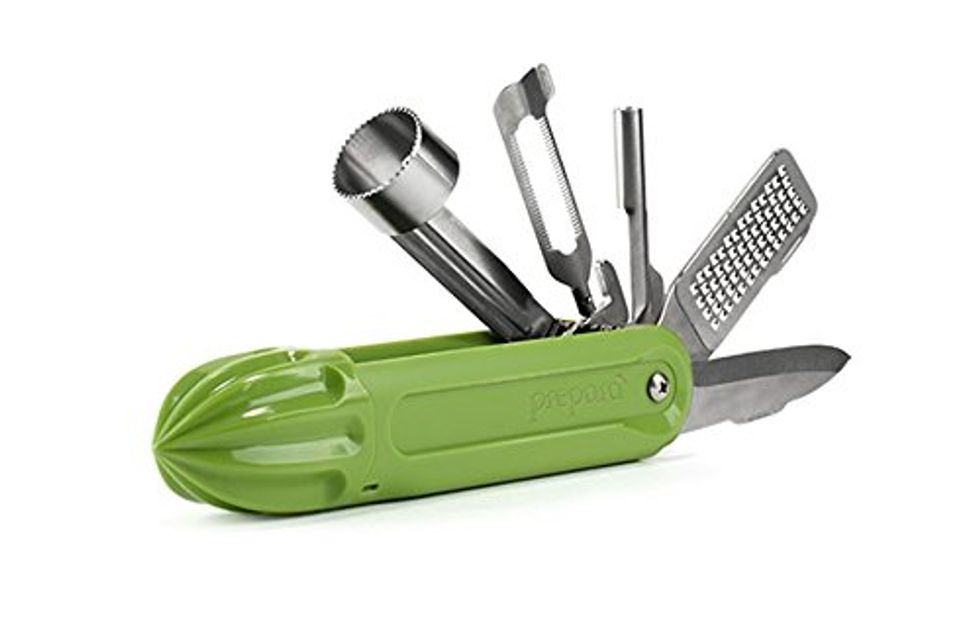 Sometimes you wish that there was one tool that could do it all and someone at Prepara is our magic genie. They created this multi-tool that's a garnish tool that's also a peeler, zester, apple corer, strawberry huller, cherry pitter, and citrus reamer! This BPA free tool is a must-have for your kitchen.
Laundry bags for delicates have been popular for a while now, but these are especially good for bras. They don't let the bras twist around, which can still happen with regular delicates bags. A sturdy spoke frame helps the bag maintain its integrity as it's tossed around in the machines. They have a regular size for D cup bras and smaller as well as a large size that fits G cups bras.
There are some hooks out there that help you keep your bag from flying around. If you have a full car, however, your bag still ends up in someone's way. An especially great purchase for moms, the
Car Caché
is a hammock that goes over and slightly behind your car's center console. Your bag floats within reach without the risk of falling forward or backward.
Get the most out of your utensil drawer with this cool organizer! Unlike wide, flat organizers, the angled sections make it easy to fit more flatware into a narrow space. Little icons on each section help you grab a knife instead of a fork for your Nutella. This is an especially good find for that one weirdly narrow drawer in every kitchen.