Fruity, tart, refreshing, and oh-so-sophisticated, there's only one cocktail that instantly makes you feel like a New York socialite from the very first sip: the Cosmopolitan. And while this drink might seem like one reserved for upscale bars and lounges, it's actually easier to make from home than you might realize. Here are the simple steps for making the perfect Cosmopolitan.
I'll walk you through everything you'll need to make the perfect Cosmopolitan and even include links to all the must-have essentials. You'll have to provide your own pair of Manolo Blahniks, though.
We hope you find these products as awesome as we do. Just an FYI: We are a participant in the Amazon affiliate program, and may receive a share of sales from links on this page. Prices on Amazon fluctuate so anything mentioned below might change as soon we publish it!
We hope you find these products as awesome as we do. Just an FYI: We participate in affiliate programs and may get a share of the revenue from your purchase.
The perfect Cosmo starts with the right glass.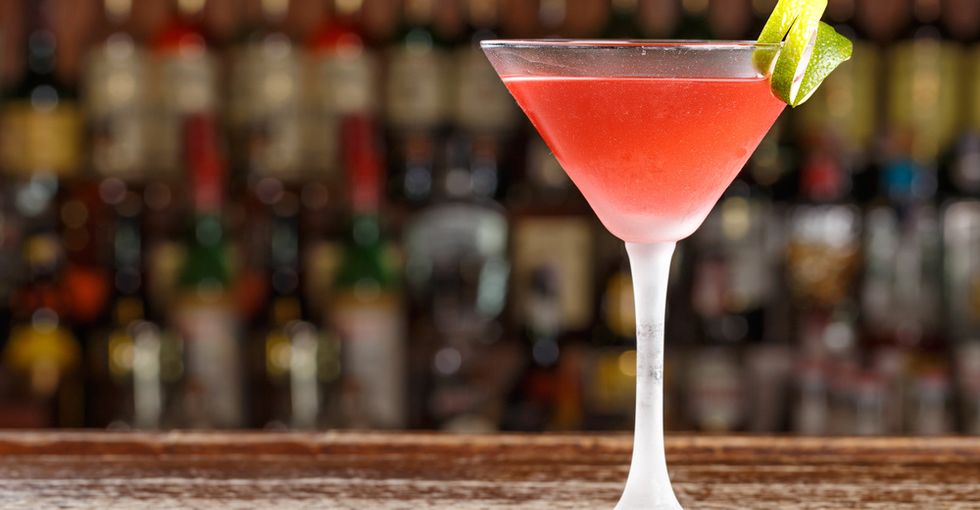 via: Shutterstock
Drinking such a sexy drink from an ordinary wine glass or, even worse, a
tumbler,
would be downright depressing. You'll need a glass with a long, elegant stem and fluted bowl in order to get the full effect. These are also the glasses traditionally used for martinis.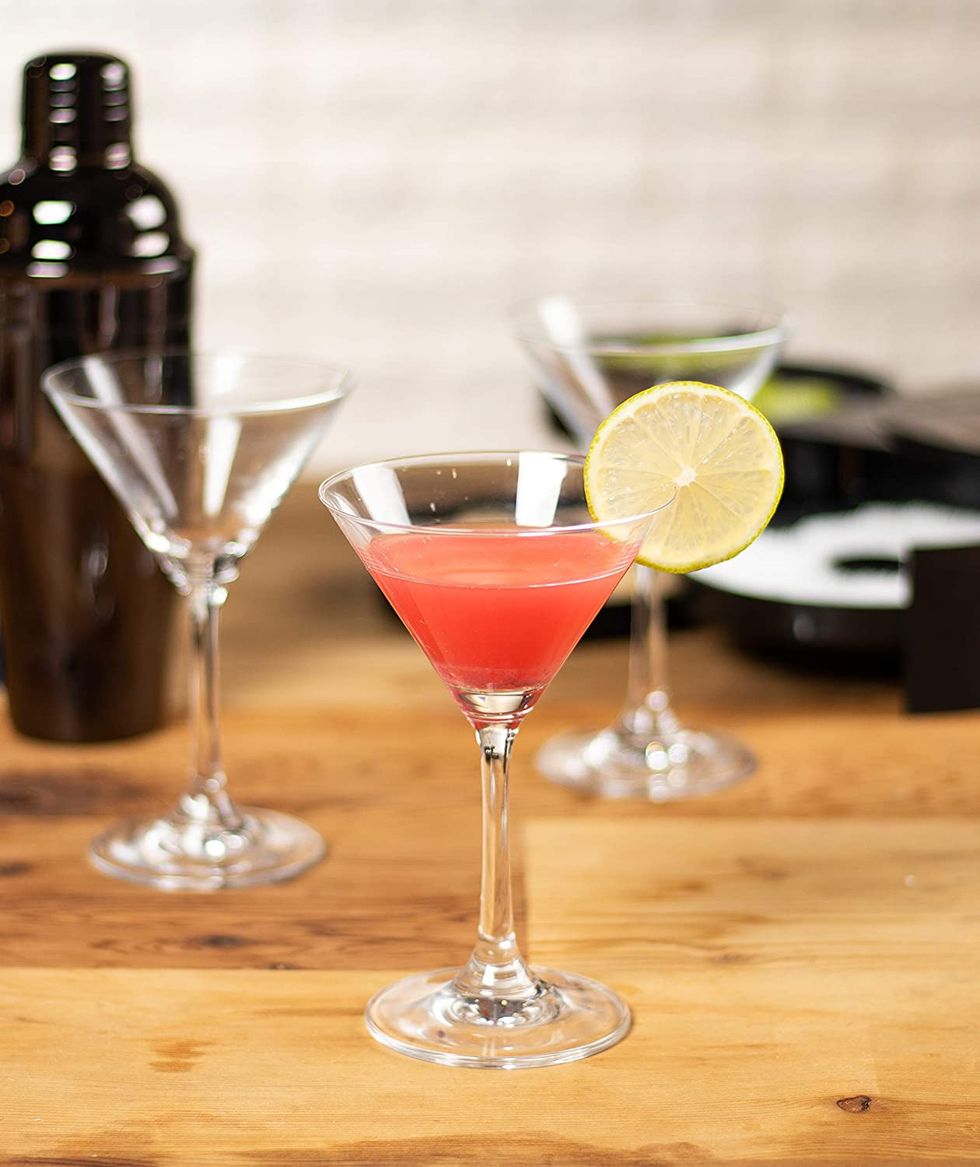 via: Amazon
This
Set of 6 Cocktail Glasses with Inverted Cone Shaped Stemware
is an affordable way to expand your home bar collection without sacrificing style, durability, or quality. You get six cocktail glasses that can be used for a variety of drinks for just over $25 bucks.
Besides the right glass, this cocktail also requires something that everyone should have in their home bar setup: a cocktail shaker.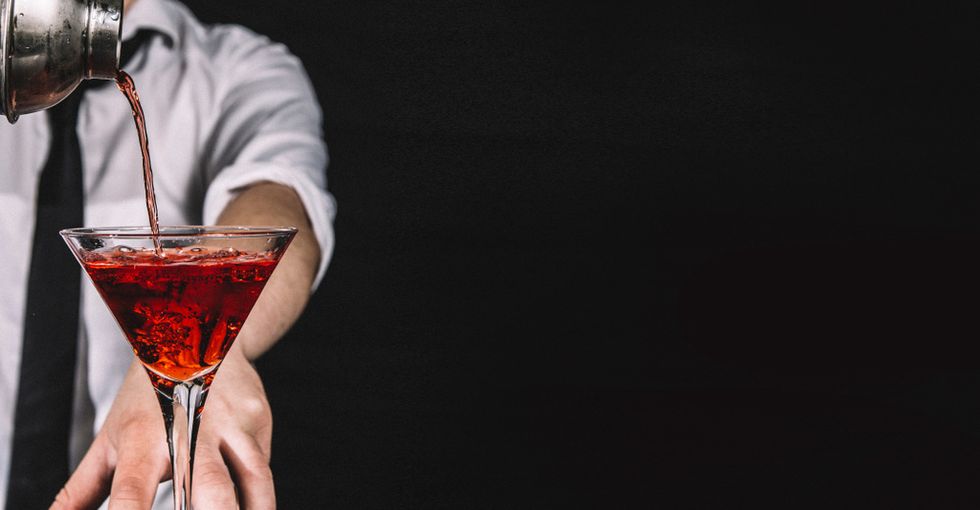 via: Shutterstock
James Bond prefers cocktails to be "shaken, not stirred", and you should, too. Not only does it ensure that all the components of your drink are perfectly incorporated, but it's also just plain fun to do. You're guaranteed to impress your dinner guests if you shake up a cocktail in front of them.

via: Amazon
If you feel like you're ready to start shaking things up at home, this
Stainless Steel Martini Cocktail Shaker
is exactly what you need. It's made from strong 18/8 grade stainless steel so you know it can hold up to even the most vigorous of shaking, and the built-in strainer makes it easy to shake, pour, and serve in one quick step.
Grab a cocktail jigger to quickly and easily measure out your ingredients.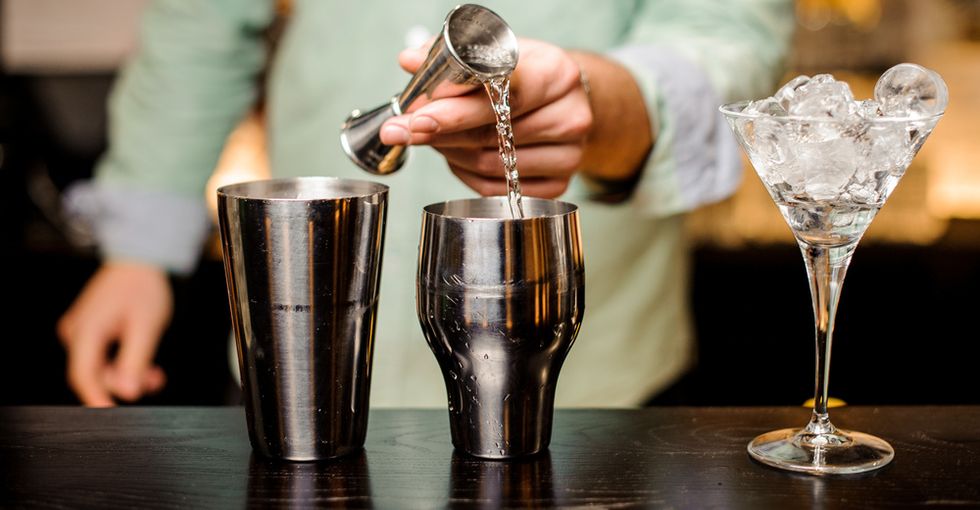 via: Shutterstock
Fill up your shaker with ice and add 1.5 ounces of vodka, 3/4 of an ounce of fresh lime juice, 1/2 of an ounce of triple sec and 1/2 of an ounce of cranberry juice. Replace the strainer and cap and shake quickly for several seconds to make sure all the ingredients are completely mixed.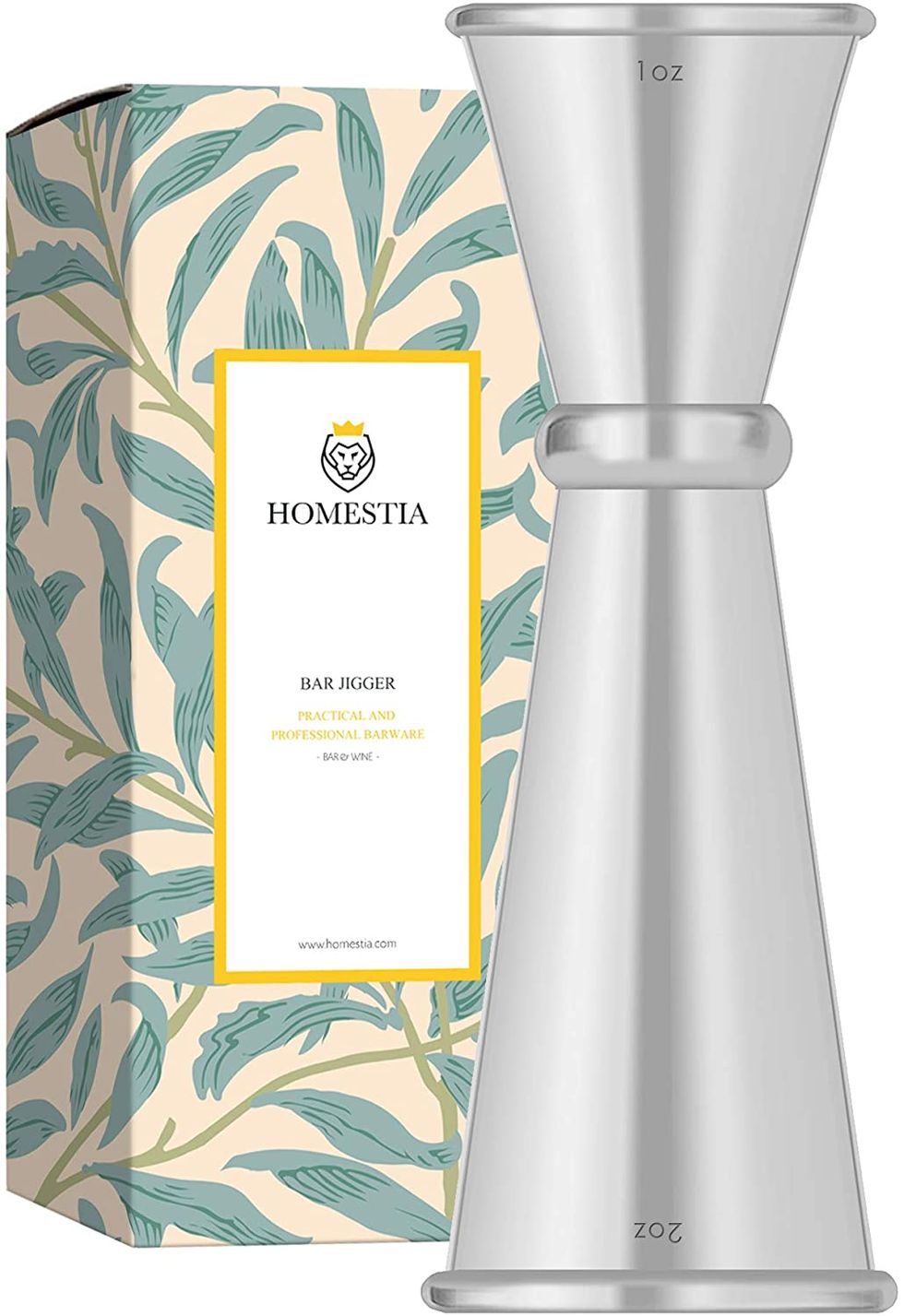 via: Amazon
This
Double Japanese Style Stainless Steel Bar Measuring Jigger
is sleek, sturdy, and features clear markings that make it easy to see how much liquid you've poured. Bonus: it comes in several different colors so you can choose one that will look great in your kitchen.
Now that you've all done shaking, it's time to pour.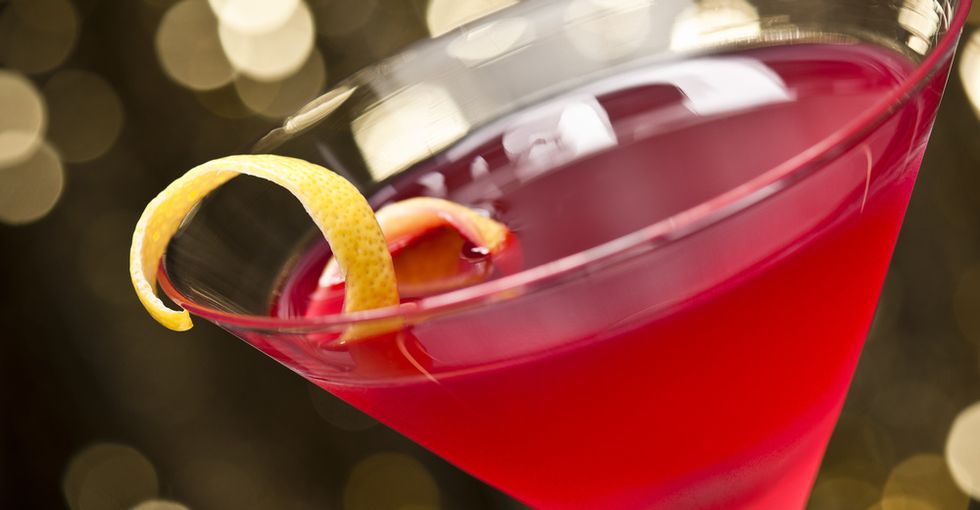 Fill up your glass to just below the rim. Now, all that's left is the garnish. Different Cosmo recipes call for different garnishes, but it's usually either an orange twist or a lemon twist. A "twist" is a piece of curled rind that just sits on the rim of the glass.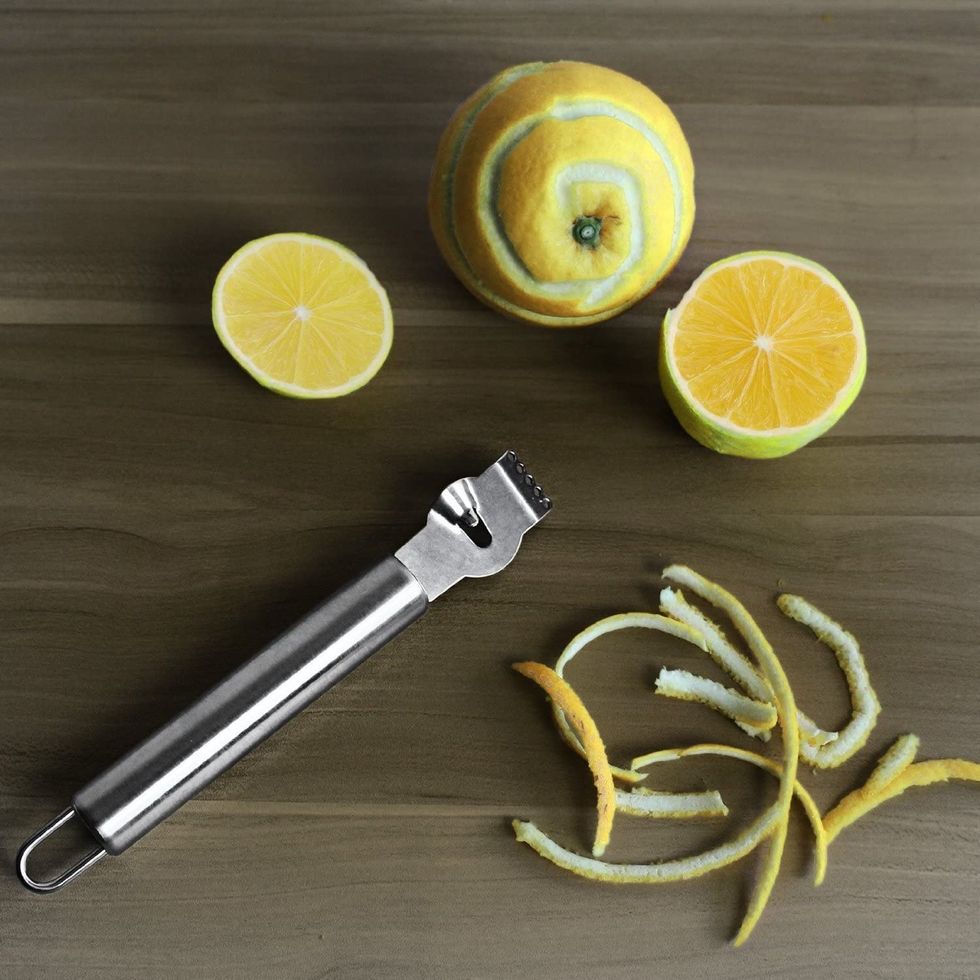 via: Amazon
Most professional and amateur bartenders have one of these
1Easylife Stainless Steel Lemon Zester Graters with Channel Knife
, which has roughly one million different uses. But for this cocktail, you'll be using the peeler, which cuts the perfect orange or lemon garnish.
Cheers! Your cocktail is complete!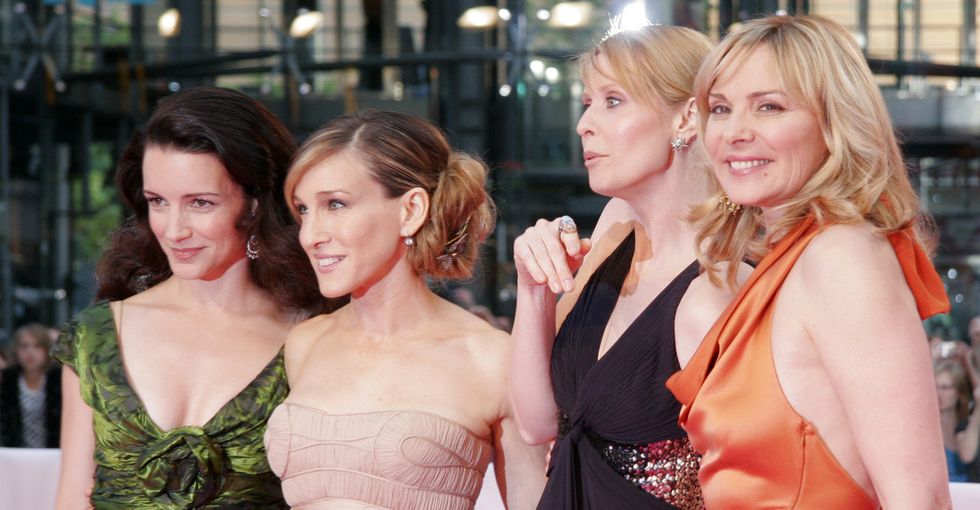 via: Shutterstock
Now close your eyes, take a sip, and imagine yourself in NYC hanging out with Samantha, Charlotte, Miranda, and Carrie. If you're a fan of
Sex and the City
, might I suggest making a batch of these drinks for some pals and having a marathon?
Luckily, Amazon Prime makes it easy to stream both "Sex and the City" movies right from the comfort of your own home.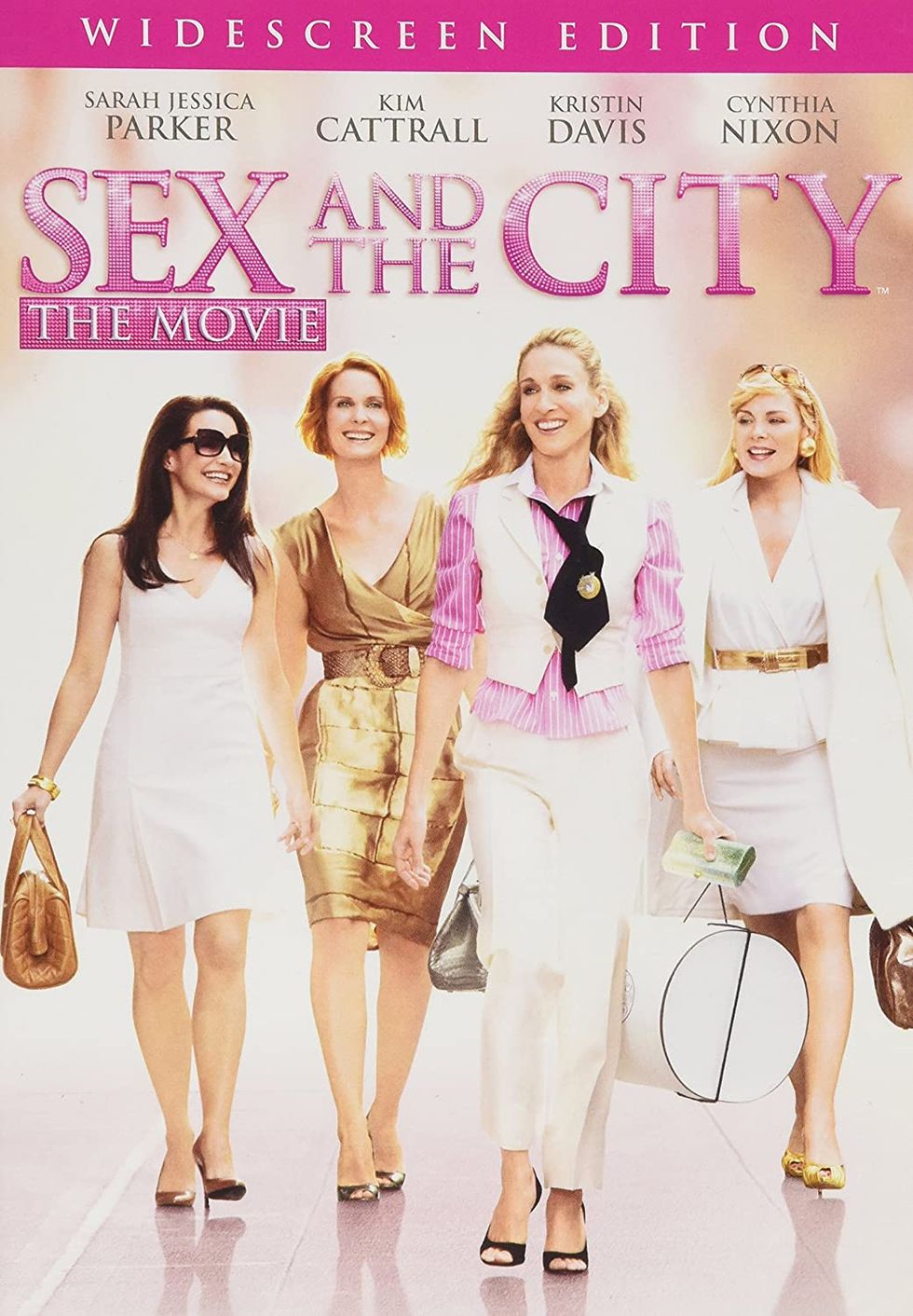 via: Amazon
So there you have it: I walked you through the simple steps of crafting the perfect Cosmopolitan and organized a fun movie night that will make you feel incredibly chic and fancy. Now keep practicing until you've mastered this recipe. The best part? Your mistakes will still be delicious.